17 Oct

Taste and Experience the K-pop Groove with Bigby's Newest Korean-inspired "K-pop Foodies Goals"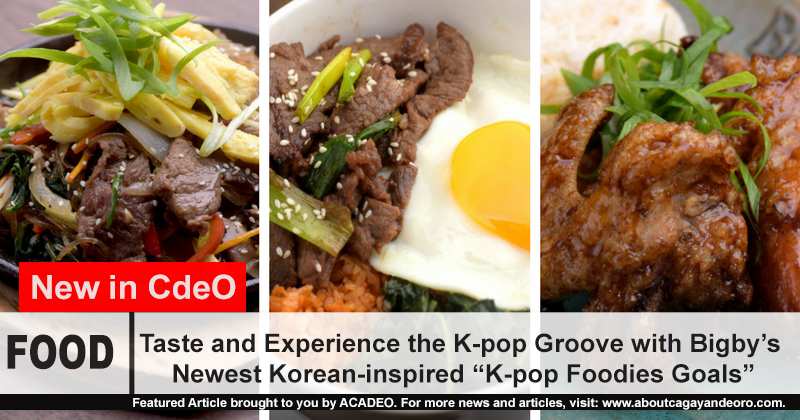 Are you a food buddy who can't get enough of everything about the K-pop culture and Korean cuisine? This is for you!! Satisfy your hunger with Bigby's Cafe and Restaurant newest addition to its all-time favorite home-made style dishes, the Korean-inspired  "K-Style Chicken Fry", "Superstar Bulgogi", and the "Aja Chapchae", all make up the " K-pop Foodie Goals".
K-Style Chicken Fry
Discover the taste of Bigby's version of your ordinary glazed chicken into something new with the use of a specially-made marination. You can also choose either of the two kinds of glazes; "Soy Garlic" glaze and the "Spicy" glaze according to your heart's desire.
Superstar Bulgogi
If you are a die-hard Hallyu fan, most probably you are very familiar with the popular Korean dish Bulgogi. For sure, you will not be able to resist the recreated style of Bigby's Beef Bulgogi with Kimmy Chunky Stew , the Superstar Bulgogi with Bigby's Kimchi fried rice joining in the bowl of fun.
Aja Chapchae
Including this traditional Korean dish into its menu is Bigby's way of introducing it to the palates of Filipinos. Get all mixed up with Bigby's Korean glass noodles, beef bulgogi, and all other ingredients to complete the savory taste of Aja Chapchae. To make it more crowd-pulling, it is served on a sizzling plate and topped with egg omelet and sesame seed perfect for either as an appetizer, side dish, or even the main star of your Bigby's K-pop Foodie Goals.
What are you waiting for? Invite your food buddies now and head to Bigby's Cafe and Restaurant to enjoy this newest offering that will surely bring you the K-pop feels without having to leave the country.