03 Dec

Tea Cafes and Tea Shops in Cagayan de Oro City Where You Can Get Your Dose of Delicious & Refreshing Tea Beverages

If you're the really serious tea drinker then here in Cagayan de Oro you need to know where, as the British would say it, "to get you spot of tea." But it's more than just knowing the locations of where to get your "cuppa tea" as the Australians would say it. You also need to know what kind of tea they're offering. Drinking tea today has become as complicated as Philippine politics, because there's more than just a hot tea drink; aside from the variety of hot "cuppas" that may be sold, there's also a long lineup of cold tea drinks and a new one called milk tea. So whatever your preference, Cagayan de Oro has plenty to offer with its lineup of various Tea Shops and Cafes.
A little bit of tea history, wot?
As the British would say, wot? Unlike its distant cousin, coffee, tea has had a tumultuous relationship with history and wars were fought over tea. Botanists agree that all teas come from only one plant, the Camellia Sinensis, which originated in the lands of northeast India, southwest China, and Tibet. It was the Chinese who created tea drinking when the Han Dynasty used tea as an herbal medicinal tonic. Japanese envoys and priests sent to China brought back tea to Japan, and it was the Japanese who perfected the art of ceremonial tea drinking. China and Japan brought tea to Korea. The Portuguese learned about tea drinking and the English learned from them. When the British began annexing Chinese territory, two minor wars were fought over opium and tea. To break the Chinese monopoly the British created tea plantations in India, and thus, was born the British East India Company whose main sea faring product was tea. Bubble tea or milk tea using condensed milk and tapioca was invented by the Taiwanese.
Tea Cafes and Tea Shops in Cagayan de Oro
Infinitea CDO
Mainly a milk tea shop serving up various milk tea flavors, fruit tea, frappes, and coffee. Loose leaf tea is basically used for all the tea drinks. The tea shop has a relaxing and lounge type environment with free Wi-Fi and soothing music.
They're on the ground floor of the VMP CDO Corp. building, Tiano Bros. corner Montalban Streets. Business hours are 9:00 a.m. to 11:00 p.m.
The Coffee Bean and Tea Leaf
While many customers have complained about their coffee that can cause indigestion or gas, their hot and cold teas, especially their milk teas and frappes can be quite delicious. They're open on regular business hours with branches at the Ayala Centrio Mall and at Limketkai Center (beside Shakey's).
Dream Haven Café
A growing favorite with many college students especially with their milk teas and frappes. They are open from 10:00 a.m. to 9:00 p.m. and are located on Pabayo Street near Xavier University and at the Elipe Park building beside Liceo de Cagayan University.
Chingkeetea
Having opened in 2012, this tea shop is one of the first to open in the city. The first branch to open is at the Marfori Compound squeezed between Pabayo Street and Corrales Avenue and features small rooms that provide some privacy for those who want some quiet tea drinking.
This original branch has recently moved to its new location on Arch. Hayes corner Pabayo Streets. The other branch is located at the Grand Central Building on Arch. Hayes Street.
Aside from their frappes and milk teas in various flavors they also serve cupcakes and cookies. There is no free Wi-Fi to make sure that customers enter into active conversations.
Sweet Leaf Bubble Tea Café
This tea café boasts of infusing fresh tea leaves in each of its tea drink preparations. Their customer bestsellers are usually its matcha varieties and Oreo milk teas.
They also serve pastries, sandwiches, and pasta. They have free Wi-Fi. They have a branch at Pabayo corner Toribio Chaves Streets and another at the Lifestyle District on Corrales Extension, fronting Capitol University.
Kenko Naicha
This unique tea shop offers a unique Hong Kong milk tea called Nai Cha. It has an impressive lineup of Asian Nai Cha teas, fruit teas, Yakult teas, cheese variations, and soy milk variations. They even serve freshly brewed hot tea for traditional tea drinkers. Their first tea shop opened in Carmen, beside the SSS building. Now they have two branches at the Ayala Centrio Mall (Rustan's and 3rd floor cinema area), one at the 2nd floor of Robinsons at the Limketkai Center, and a stall at SM City Mall.
Bon Appetea
Opened its first branch in the city located at Limketkai Mall is the fastest growing milk tea franchise in the country, Bon Appetea. Aside their brand's milk teas, they also have fruit teas, waffles, yakult teas, frappes and fries. Wintermelon Milk Tea and Nirvana – Assam Black Tea are just some of their best-sellers. For huge milk tea lovers, they offer Monster Milk Tea which is 1 liter in volume.
Tokyo Bubble Tea
A Japanese Restaurant with bubble teas as their popular item in their menu, Tokyo Bubble Tea is located at the 3rd floor Ayala Centrio Mall facing the cinemas. They have a lot of Japanese dishes to choose from. Starting from their Okonomiyaki Pizza, Bulgogi Nachos, Yogi's Poutine Fries, Takuyaki, Teriyaki Chicken don, to Korean Bulgogi. Of course, you can't leave this resto without trying their milk teas, tea slushes, coffees and milkshakes with a wide variety of flavors.
Happy Lemon
Located at the second level of Ayala Centrio Mall is Happy Lemon, which is an international franchise from Hong Kong. They specializes in serving milk teas, lemonades, chocolates, fruit shakes and more. With their tagline "Happy Everyday", they give happiness to their customers throught their products. One of their best selling milk tea flavors is Cocoa with Rock Salt and Cheese.
Bischa Milktea Cafe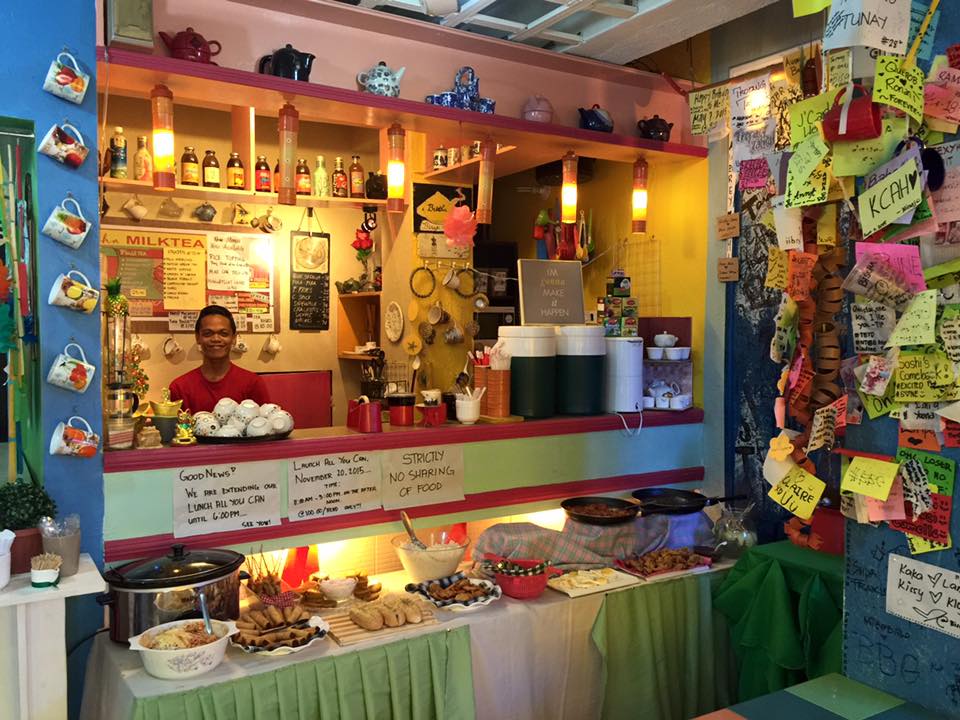 This is a tea café that serves traditional hot tea drinks as well as various flavored frappes and milk teas. They serves meals at a very affordable price. Located at the Mr. Peps Building along Makahambus Street and they have now another branch in Carmen
Wang's Tea Fuzion

 

When it opened in 2012 on RN Abejuela Street in Divisoria where the former Music Vision House used to be, this tea shop became popular almost overnight. Aside from their Wi-Fi perhaps it's the location that makes this a customer favorite. It is comfortable with a simple interior. Wang's call their milk teas Boba teas and they also have other varieties like fruit teas, various latte teas, and freshly brewed traditional jasmine green, Ceylon, and black tea.
Mang Cha-A Milk Tea




This tea shop has the catchiest name of all the CDO tea places in the city. Of course everyone knows that Cha-a is Tagalog for tea. Their traditional hot teas as well as frappes and milk teas taste really good. They are located along the Rodolfo N. Pelaez Boulevard near the Liceo de Cagayan University.
Happy Light Coffee and Tea House
A small but nice and cozy place where you can really relax in its quiet atmosphere. Their traditional hot teas, frappes, and milk teas must really be good if they are frequented by local stars and talents. It is located at the corner of Pabayo and Arch. Hayes Streets.
Teamptation
Still pronounced "temptation," this is literally a hidden gem if you don't know where to look. You can find this tea shop along Tiano Bros. Street in front of Informatics. They're on the 2nd floor of that wooden building. Many are saying that this "awesome" secret hideaway makes you feel like the inside of a dollhouse. Their milk teas have catchy names like Pick Me, Cherish Me, Embrace Me, Take Me Home, Marry Me, Date Me, Hold Me, Love Me, Adore Me, and Drive Me Crazy. Their milk teas can even be customized with coffee jelly, cheese, peppermint, egg pudding, grass jelly, tapioca, and coco jelly.
Conclusion
So there you have it, a random listing of the good tea shops and tea cafes in the city. The listing is random as mentioned so there is no ranking involved in the placement of these tea places. It's merely meant as informative so tea lovers and tea drinkers can find a good tea café and shop near where they are.