05 Dec

The Cagayan de Oro City Vote in 2016: Who Will be the Next Mayor to the City?

In just little as six months Cagayanons will be casting their votes in the May 2016 election. Though a total of five candidates have filed their official certificate of candidacy (COC), it is quite obvious that the standoff will be a three-cornered match between an incumbent, a former mayor, and an incumbent congressman. Of course these three are known veteran politicians belonging to major political parties and in the past have served as elected officials for Cagayan de Oro City or the province of Misamis Oriental. So let's get a bit of information about all of them, at the least.
Felix Borres
Felix is no stranger to politics; this is his third time to run for the position of mayor in the city. According to Felix, on this third time around God roused him from his sleep around 3:00 a.m. and told him to run for mayor to prevent either Moreno, Rodriguez, or Emano from getting elected this coming election. Felix ran for mayor in the 2010 and 2013 elections and is usually the earliest candidate to file for a COC at the local COMELEC office, to the delight of the employees there who seem to enjoy his friendly manner, antics, and stories. According to Borres, God instructed him to run so he could fulfill His plan to get rid of the city's flooding problems by improving the city's drainage problem and to build skyways to solve the city's traffic problems.
Eric Saarenas

Eric is an independent candidate running for mayor. He is a pastor for the Philippine Economical Christian Church. According to Eric, if elected mayor, his first order of business is to remove the local city intelligence fund since this is the fund source for past mayors that can easily be plundered. A few days after Saarenas filed his COC, he was under some small controversy when a Facebook survey by a local newspaper showed that he actually beat out Dongkoy Emano for third place.
Rufus B. Rodriguez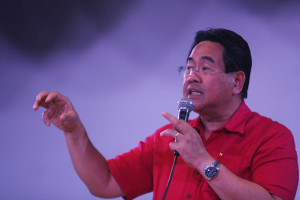 He is currently the representative for the 2nd district of Cagayan de Oro and has held this post since 2007. Born on September 13, 1953, he was the valedictorian in elementary and high school in Xavier University, belonging to the XUHS Batch 1971. In college he took up AB Economics and graduated Summa Cum Laude from De La Salle University in Manila. Rodriguez proceeded to take up law at the University of the Philippines. He also finished his Master of Arts in Economics in 1984 with an award for High Distinction. He started early in politics, being the youngest board member for the province of Misamis Oriental in 1980 and became Vice-governor in 1984. He became and served as the youngest dean at the San Sebastian College of Law in Manila as well as serving as the youngest Commissioner of the Bureau of Immigration in 1998. As a congressman he has passed some 997 bills and resolutions, 9 bills eventually becoming laws. He is also one of the co-authors for the controversial Bangsamoro Basic Law (BBL). His political party is the Centrist Democratic Party. He is also currently one of a long list of government officials being accused for his alleged involvement in the PDAF- Pork Barrel Scam.
Vicente 'Dongkoy' Y. Emano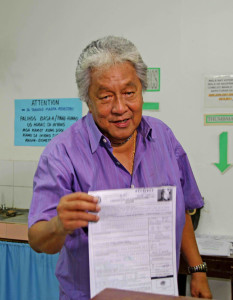 A seasoned veteran politician, Emano, now 74 years old, has served Cagayan de Oro, the town of Tagoloan and the province of Misamis Oriental in elected official capacities. Born in Sta. Ana, Tagoloan, he graduated elementary at the Tagoloan Elementary School and finished high school at St. Mary's High School. He dropped out from the University of Sto. Tomas and eventually graduated in 1973 taking Executive Training at the Development Academy of the Philippines. Emano became mayor of Tagoloan from 1980 up to 1983. After the Martial Law years, Emano was elected governor and served from 1986 to 1995. As mayor of Cagayan de Oro he was in office from 1998 to 2007. From 2007 to 2010 he ran, and won, as Vice Mayor under mayor Justiniano "Tinnex" Jaraula. He again ran, and won, as mayor for the term 2010 to 2013. He is running under the banner of PaDayon Pilipino (PDP) and is allied to Jejomar Binay's United Nationalist Alliance (UNA). Emano is presently facing graft and corruption cases in the Ombudsman for his alleged involvement in illegal mining and for the unpreparedness and mismanagement of the typhoon Sendong crisis.
Oscar 'Oca' S. Moreno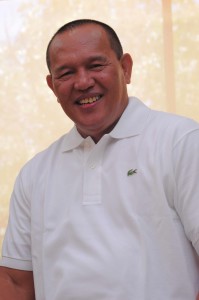 Born on February 28, 1951 in Balingasag, Misamis Oriental, Oscar spent his elementary years at the Balingasag Central School and took up his high school at Xavier University, belonging to XUHS Batch 1967. He took up Bachelor of Arts at the University of Manila and proceeded to law school in San Beda College in Manila, passing the bar exams in 1975. He worked for the Philippine National Railways as legal counsel as well as for different financial institutions such as the Ayala Investment and Development Corporation, Bank of the Philippines Islands, Citibank, Ayala Life Assurance, Inc. and FGU Insurance Corporation. Oscar then went into politics and became a board member of Misamis Oriental from 1988 to 2004. He was then elected governor in 2004 and served until 2013. In that same year he won as mayor of Cagayan de Oro. He has recently been in some controversial news in an Ombudsman case for his alleged involvement in a Tax Settlement Case with Ajinomoto Philippines that was deemed illegal.
We are hoping that we are able to provide some bits of information on the candidates running for mayor in Cagayan de Oro and this can help you decide on whom to vote for. However, we do stress like a broken record that you need to vote cleanly with your conscience and not your pockets.
(Note: We chose not to include a sixth independent candidate, Romeo Cabildo, because as of press time his COC was still being scrutinized by the COMELEC. There is also nothing online even in the news when his name was searched even after using 4 search engines.)