08 Feb

Things to Remember When Applying for A Pag-IBIG Housing Loan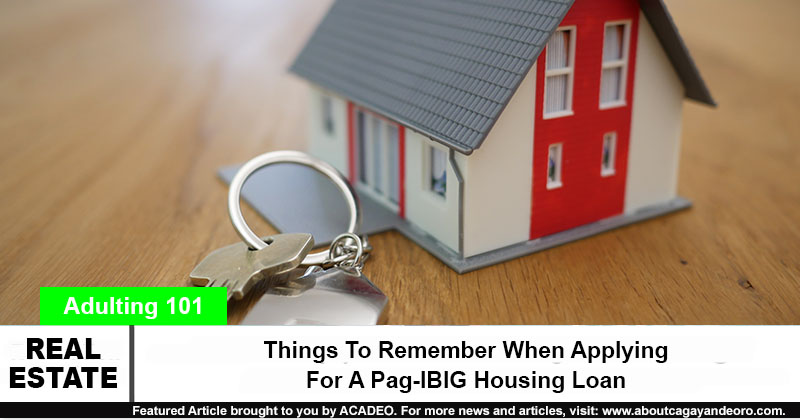 Ah, houses. Everyone wants to have their own at some point. It's a coveted symbol of independence for young adults and is a sign of stability and security for families. Having a home to return to at the end of the day is a wonderful feeling that everyone should be able to afford.
One of the ways that many Filipino families, like those among our Acadeo peers, finance their housing loans is through the Pag-IBIG Fund, also known as the HDMF (Home Development Mutual Fund). The Pag-IBIG fund is a Philippine government-owned and controlled corporation (GOCC) that provides subsidized funding for Filipinos enrolled with the Fund.
Getting a Pag-IBIG housing loan can be very easy for some of us – but it can also be very difficult for some, especially those who aren't aware of the requirements to apply.
Here's a quick layman's guide on what you need to qualify for a Pag-IBIG housing loan!
THE BASICS
In order to apply for a housing loan from the HDMF, you must first be a member who is 18-65 years old and a Filipino national or resident. According to the official website, you can make a lump sum payment worth 24 months. However, many of us can attest that attempting to do this at the Pag-IBIG Fund offices are told we cannot.
This is because new members are required to contribute for 24 months without missing a month to even be considered for a housing loan. If you enrolled for Pag-IBIG Fund today and paid the lump sum tomorrow, you'll still have to wait 1 year, 11 months, and 30 days before you can apply for a housing loan.
The reason for this is because there have been many cases of members abusing the lump sum part and are not paying for their loans on time. If loans aren't paid on time, the fund reserve for future loans will be affected, which leads to less loans approved. By proving commitment and dutifully paying your contributions for 24 months, new members create a relationship of financial trust with the fund.
So don't miss your payments as much as possible! Remember, it's 24 months of payment without a gap! If you miss a month, you may have to start again.
THE NEXT LEVEL
Okay, now that we've checked the very basic requirements for qualifying, let's get into some details. The Pag-IBIG Fund website says that you should have the legal capacity to acquire and encumber real property. What does this mean?
Essentially, you should be free of any legal restrictions that will prevent you from entering a contract. If you're a minor, you can't apply. If you have a criminal case against you, you most likely won't be able to apply (civil disputes may be on a case-by-case basis, like if you're fighting with relatives over inheritance or property). If you have a medically-certified disability that prevents you from making sound decisions or supporting yourself financially, your application may be denied.
You also should have proof that you have the finances to pay regularly, and not just big amounts in single payments. Many people think that paying off loans in one go is good for your credit, but it's actually the opposite – if you do this often, it tells creditors that you either have poor financial management, or your finances are seasonal or irregular.
While not technically a creditor, the Pag-IBIG Fund is still a financial institution and they value members who can pay responsibly. (if you still want to pay in advance, though, do so! Just keep your monthly payments updated too!)
LAST BUT NOT LEAST…
You should not have outstanding loans, or defaulted loans. We all know that you won't get approved for a loan if you still have one that's not yet paid in full, but what's a defaulted loan?
It's a loan that has been, essentially, ghosted on. This happens when a member refuses or is unable to pay back the loan, causing the Pag-IBIG Fund to either foreclose the property or auction it off. Sometimes, the member may even be banned from taking on any loans under certain conditions.
Loans are not free money; they are a financial responsibility, and we shouldn't treat them jokingly or neglect them. The Pag-IBIG Fund offers a variety of affordable housing options, including Pag-IBIG foreclosed properties as well as joint housing loans for married couples. So let's be responsible!
Happy house hunting, and good luck on applying!