19 Jul

Throwback Feature: 10 Snacks We Loved as Kids

In a memory throwback, remember when you were still kids and there were snacks that you really loved. It didn't matter if your mom made it, you made it yourself, you bought it, found it in your lunchbox as "baon", or your friends made it; these childhood snacks defined your childhood and added fun and joy to your kid's days. While a few still partake of these snacks as adults, unfortunately, many have swept these snacks aside for more "mature" foods and partaking. Sadly too, some of these snacks now stand obsolete or strange in the eyes of the newer generation, never to be tasted, and never to define what fun is in childhood.
Skyflakes or other crackers and condensada
Admit it that as kids you loved to scrounge around the kitchen and look for combinations that work well as snacks.
This snack from time immemorial blends the popular Skyflakes crackers (or any cracker brand that fancies so long as its soda neutral) with some condensed milk poured on top. It didn't matter if the condensada was dripping through the cracker holes so long as we enjoyed eating it. Today, this snack seems strange to the new generation since ready-made crackers with "artificial condensada" are now sold at supermarkets.
Pandesal or sliced bread with butter/margarine and sugar
Here's another snack that kids really loved in the past. As soon as mom or dad brings in a new batch of sliced bread or pandesal, the butter or margarine and sugar gets whipped out.
The butter or margarine is spread thin on the bread, and with a teaspoon, a little sugar is poured on top of the butter/margarine. The taste is definitely heavenly for kids. Again, unfortunately, many kids today no longer indulge in this snack since they find it "messy" and the butter/margarine might smudge up the smartphone or tablet.
Chocnut
Remember when you used to go to the Sari-Sari store and buy Chocnuts? Unfortunately, this isn't sold anymore though you'll find similar alternatives in the supermarket such as Bar Nuts.
However, many swear that nothing beats the taste of the original Chocnut.
Stick-O
There is no kid in this country who never got to taste these chocolate wafer sticks that are still sold individually in Sari-Sari stores and by packs in the supermarket.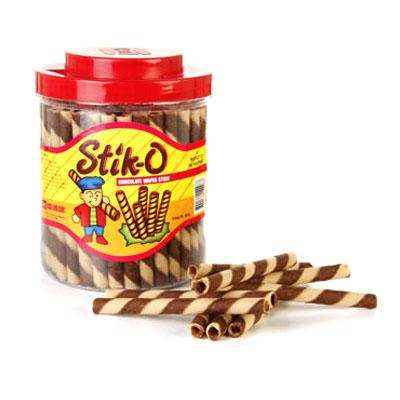 Who didn't pretend these wafer sticks were cigarette sticks instead and all your friends tried to look as bad-ass as possible, of course without the adults looking.
Ri-chee
Did you and your friends gather around over a pack of Ri-chee snacks? For sure these milk-flavored crunchy snacks made for great conversations while being consumed.
It's a good thing it's still sold in supermarkets, though adults today don't seem to want to touch it anymore, but admit it, there was really something comforting about the milky flavor, are we correct on this matter? Such a shame most adults no longer eat this snack.
Dingdong
Now here's a kiddy snack that most male adults admit still partake of, even if for different reasons. There's really something spectacular about reaching inside that bag of mixed nuts (peanuts, green peas, corn chips, etc.) and to see what you could get hold of.
As kids we often discussed what was our favorite from the lot of mixed nuts. When we grew up, Dingdongs seem to have found its way as "pulutan" with our favorite beer, whiskey, or rhum, though still partaken in a group.
Orange Swits
Sadly this snack is no longer around or even sold in supermarkets. Admit it that as a kid you loved this gummy snack that was shaped and even tasted like oranges.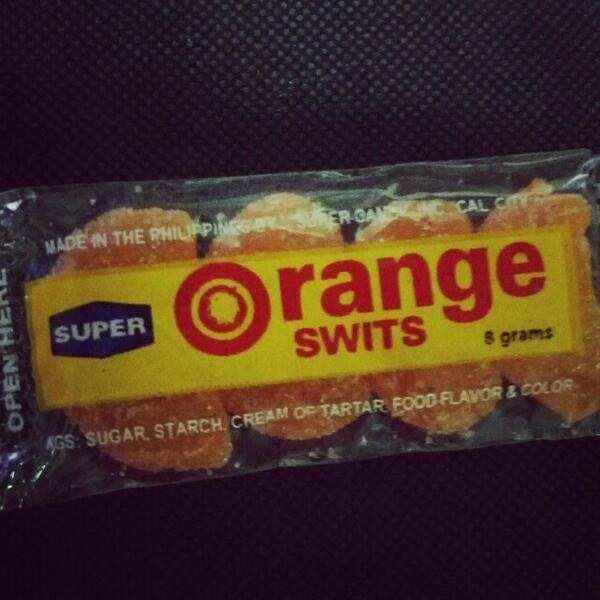 You even bragged to your mom that it's healthy since it's orange (until mother reads the ingredients that didn't contain any orange at all).
Mik-Mik Powder
Most parents are actually baffled as to why kids really love this artificial powdered sweetened choco or sweetened milk powder sold in sachets (But isn't that what defines childhood, eating what's delicious regardless of what it is?).
Perhaps it's because you had to eat the powder using a straw and that makes all the difference since it was fun to do so. And even if kids almost choked when they sipped too hard that one time, they never learn their lesson and finish the whole sachet, and then go on to buy more. But it was sure fun to eat! It's still sold in supermarkets though you really need to look for it.
Haw Flakes
Now who could forget those red colored disk-shaped candy made from the Chinese hawthorn fruit.
We know of some adults still searching for this snack that seems to have disappeared from stores in spite of flood of Chinese products into our country. Admit it that as kids you played holy communion using Haw Flakes, and took turns who would play priest.
Bazooka Bubble Gum
It's amazing that, as kids, this small packet of bubble gum could give us almost hours of fun. Many parents (our included probably) hated the bubble gum since it looked like little laundry soap "baretas."
But the pink chewing gum gave much fun when kids had contests who could blow the biggest gum bubble. Sometimes there where gum bubble fights wherein kids would face each other close and blow gum bubbles at each other. And who could forget the collecting and trading of the comic strips on the gum wrappers that became a regular activity among friends, and endless hours of reading about "Bazooka Joe."
(Special Addition and Mention)
Yakee
Now here's an extremely sour chewing gum that we all loved when we were kids.
There really seemed to be thrill in buying the gum at the Sari-Sari store with friends, and everyone enjoying the ridiculous sourness of the gum and the fact that it made your face literally squint. Good thing this snack is still sold in supermarkets so parents can pass it on to the next generation. Though not part of this list we felt this snack had to be mentioned here.