15 Aug

Now is the High Time to Invest in Mindanao!

During the Philippines-United States Business Council meeting on the theme "Mindanao: Uncovering New Opportunities" at Shangri-La in Bonifacio Global City, the chairman of Mindanao Business Council (MinBC), Vicente Lao, inspired American businessmen to invest in Mindanao, showing its economic advantages in agriculture and agri-business.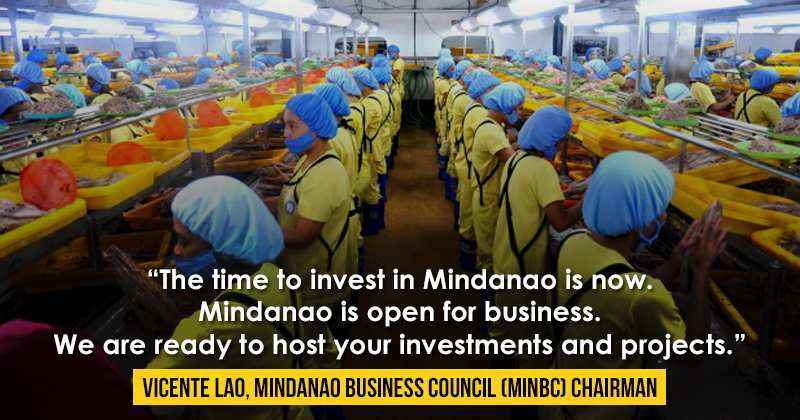 Lao said, "As a food basket of this country, Mindanao supplies 30 percent of the national food requirement." He said this as he is urging the American investors that this is now the high time to invest in the country's second largest Island.
Mindanao is a constant supplier to big countries like the US, Japan, China and the Middle East, delivering exports like bananas, coconut oil, canned tuna, canned and fresh pineapples, desiccated coconut and rubber among others.
With full confidence, Lao said, "The time to invest in Mindanao is now. Mindanao is open for business. We are ready to host your investments and projects."
Aside from these advantages, the 11 verified sites of hydro resources that Mindanao have is one reason that the electricity rate in the Island is much cheaper compared to Visayas and Luzon.
From 2017, additional hydroelectric power plants are set to be constructed in Mindanao. This will further cheapen the rate of electricity in the area, as well as to cater the growing demand of electricity consumption, as more and more businesses are coming in from the time the Mindanaoan President, Rodrigo Duterte, took the seat in Malacañang two months ago.
Lao emphasized that Mindanao can support and accommodate investments for the development of large tracks of agricultural projects.
The 11 high-value crops that Mindanao has are rubber, oil palm, cacao, coffee, coconut, poultry and duck, banana, seaweeds, tuna, tourism, sardines and fruits, and vegetables.
The only issue that made the foreign investors reluctant to branch out in Mindanao is the peace and order in the Island. But, with President Duterte, who is also a Mindanaoan, manning the highest position in the country, this problem will be more likely to be solved than to continue.
With this problem solved sooner than later, it will allow the commitment of big companies in the Island to expand their business here and take full control of Mindanao's potential as the next economic boom in the Philippines.