05 Jul

Top 10 Barangays In CDO With The Highest COVID-19 Cases & Deaths (As Of July 4)

Mga higala! Here are the TOP 10 BARANGAYS in Cagayan de Oro City with the highest COVID-19 cases and deaths, as of July 4, 2021!

Same with last week, Brgy. Carmen still has the highest number with a total of 1,297 cases with 57 deaths and a 4.39% case fatality rate.

Meanwhile, Brgy. Bugo now has the lowest number of cases among the Top 10 with a total of 433. Bugo also has the lowest number of deaths.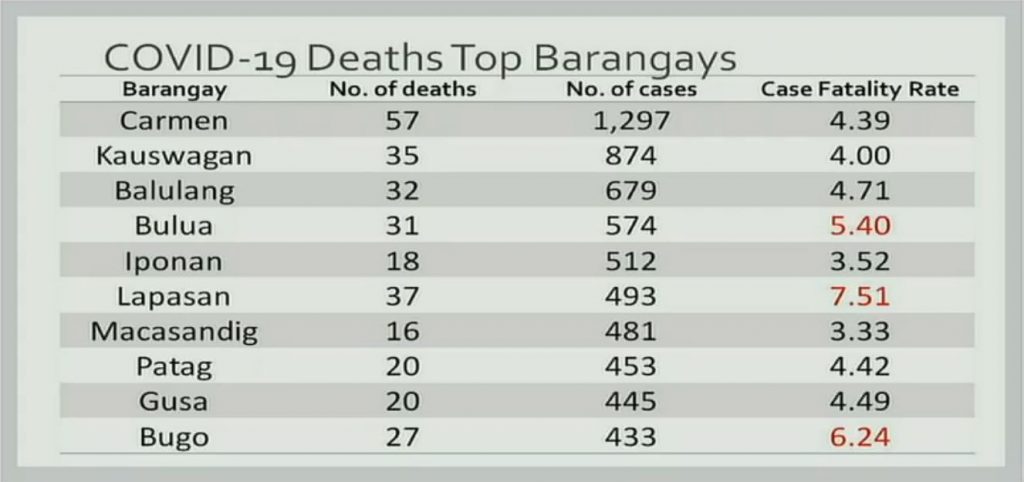 As you can see above, Brgy. Lapasan has the highest case fatality rate of 7.51% with 37 deaths in its 493 cases.
Here are last week's TOP 10 barangays:
LOOK: Top 10 Barangays In CDO With The Highest COVID-19 Cases & Deaths
Related article:
CDO Records 114 New COVID-19 Cases With 2 Deaths Over The Weekend (July 3-4)