08 Mar

Where to Find Good Ramen Dishes in Cagayan de Oro

Before you start conjuring up images of instant ramen noodles where you only add hot water, this isn't really ramen in the true sense. How ramen came about and how it is cooked actually has a dark past. The term "ramen" is actually racist in nature. Ramen noodles first appeared in Japan in 1910 at the height of Japan's shift from feudalism to imperialism. Chinese cooks at Tokyo's Rairaiken restaurant brought a signature Chinese dish comprised of Chinese noodles and broth; it wasn't called ramen then. Many observed that the Chinese noodles were firmer and more elastic than its Japanese counterparts because the dough was kneaded with kansui, a sodium-carbonate-infused alkaline mineral water.

The dish became popular and was called Shina Soba, the phonetic words for "China" and wheat noodles (soba). Shina Soba began to be served all over Japan using local ingredients. The words were actually formulated with a national identity, imperialism, and expansionism in mind. As the empire of Japan was expanding, the act of eating Shina Soba was symbolically meant to mean literally gobbling up China.

But after Japan lost in World War II, the name for the noodles came under fire from Chinese for its racist connotations. Being a symbol of imperialist aggression and atrocities towards China, the noodles were seen as some sort of horrific ethnic slur.

But the Japanese, stubborn as their character has always been, stuck to the Shina Soba noodle's name until around 1958. In that year, Nissin Foods introduced the first-ever packaged instant version of the noodles and named it Chikin Ramen because the broth was chicken-flavored. From then on, the name "Ramen" caught on, and Shina Soba was all but forgotten in later years. But back here in Cagayan de Oro, you can find some restaurants that serve top class Ramen noodles in different broths or just using the traditional ingredients. Happy hunting and happy eating!
Ramen Tei
Of course, since this is all about ramen noodles, so why not a restaurant that bears the noodle's name? Ramen Tei is located on the ground floor of the Rosario Strip Crescent at the Limketkai Center Mall. It's one of the city's oldest authentic Japanese restaurants that serve authentic Ramen noodle dishes.
They are actually very affordable and has been known for many years for serving really legitimately prepared Japanese dishes and ramen using authentic ingredients. Unlike the eating places inside the malls, this one doesn't get crowded and loud. Aside from their very delicious ramen noodles you can also try their other delicious dishes such as the Pork Tenderloin, Sashimi, and vegetable dishes.
Tadakuma
Another authentic Japanese restaurant located on Ramon Chavez Street. Its interior, color theme, and furniture all look and feel very Japanese.
It's not such a big place and can seat only 40 persons, but since it's not inside any mall, the place can fill up but still not be noisy and loud.
Their Shoyu Ramen is their top noodle piece.
You can also try out their Japanese rice (with minced fresh tuna meat and wasabi), and the Tempura Odon. They also have Seafood Ramen, Tuna Sashimi, Maki, and Mixed Sushi.
Tokyo Bubble Tea
This cool and very modern minimalist Japanese restaurant on the 3rd floor of the Ayala Centrio Mall serves really good Japanese food that's much more affordable compared to other Japanese restaurants. The place is patterned after the "family restaurants" found all over Tokyo with names like Saizeriya and Ichibanya.
Many people have actually made the mistake of thinking that it's a bubble tea place, until they see the meals being served through the glass show windows. They serve authentic ramen noodle dishes, and it's worth your palate to try their Salmon Squared Rolls, Shinjuku Wings, Seafood Ramen, Okonomiyaki Pizza, Bulgogi Nachos, Takoyaki, Teriyaki Chicken don, Yogi's Poutine Fries, milk teas, tea slushes, and milkshakes.
The place is good for groups, be it family, friends, or work colleagues. But usual customers that come are the yuppies and millennials. Since they opened in February 2014, all their customers have always given positive impressions towards the restaurant. They are highly praised for their interior design, food, vibe, with Wi-Fi as a plus factor, service, and their accommodating staff.
Modan Japanese Wagyu House and Modern Bistro
This is one of the city's newest Japanese restaurant located along Corrales Avenue in front of Hotel Xentro. It is a Japanese specialty restaurant that specializes in Wagyu Beef dishes while also serving other Japanese foods like ramen noodle dishes. The interior is quite classy and elegant.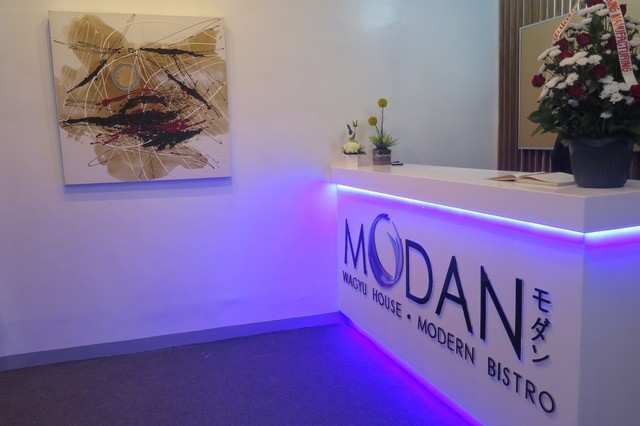 The decorations, walls, and overall design are impressive, modern, flawless, smooth, and sleek. The furniture is simple and yet sophisticated and beautiful. Of course, as a restaurant, the food must always come first, and what is always served can be truly delicious.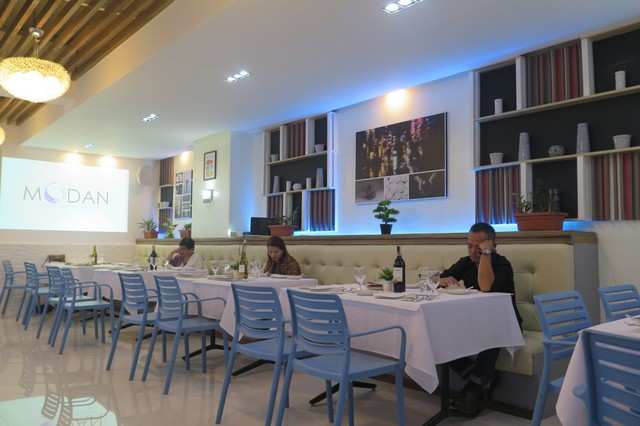 Budget wise, the price range of the food is between P260 and P2,200 making the dishes affordable even for the middle class and employees. Their Wagyu Set Meal is priced at P2,200 for 200 grams, and it comes with soup, salad, and dessert.