28 Jul

What are the Top 10 Companies That the Filipinos Want to Work For in 2016?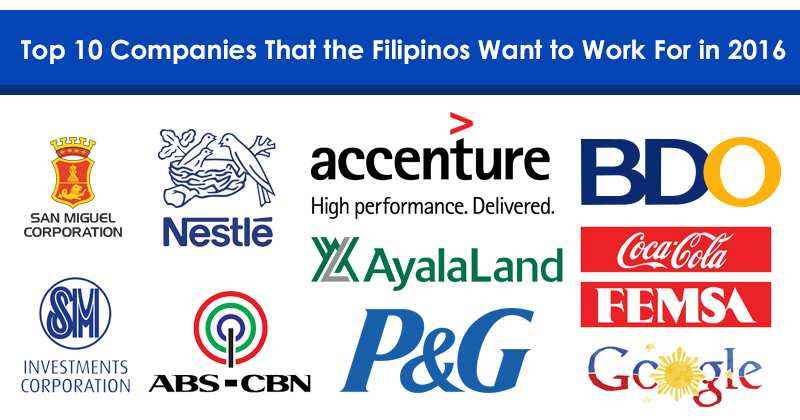 On Wednesday, July 27, Jobstreet.com released the survey results of the Philippines' top 10 companies that the Filipinos want to work for. Is the company you are working for included in the list? We'll see.
The survey has been conducted from May to July this year involving 14,062 Philippine-based Filipinos.
Here are the big names that made it into the top 10:
San Miguel Corporation
Nestlé Philippines
Accenture in the Philippines
BDO Unibank Incorporated
Ayala Land Incorporated
Coca-Cola FEMSA Philippines
SM Investments Corporation
Google Philippines
Procter & Gamble Philippines
ABS-CBN Corporation
The two Henry Sy-led companies – BDO Unibank and SM Investments – maintained their strong presence in the top 10.
Jobstreet country manager Philip Gioca said, "Most of the companies included are among the most profitable firms in the country."
"Jobstreet only surveys full-time employees. It's hard to determine them (contractual workers) so they are not in our system," Gioca added.
SMIC earned $640 million in 2015 and is the only Philippine company in the upper half of Forbes' list of the world's largest, most powerful companies based on revenues, profits, assets, and market values in 2015.
The other name that is included in the list but belonged to the lower half is Ayala Corporation, Ayala Land's parent company.