26 May

Total Lunar Eclipse, Blood Moon, & Supermoon To Be Visible In PH Today, May 26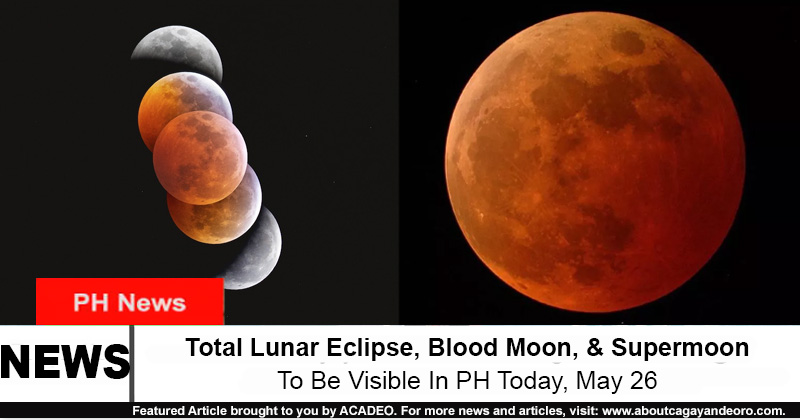 Mga higala! Wanna witness something rare and amazing today? Then, you're in for a treat!
A total lunar eclipse, a blood moon, and a supermoon will be visible in the Philippines today, May 26, 2021.
Interested? Below is the schedule released by DOST PAG-ASA:
Penumbral eclipse begins- 4:47 PM (PhST)
Partial eclipse begins- 5:44 PM (PhST)
Greatest eclipse- 7:18 PM (PhST)
Partial eclipse ends- 8:52 PM (PhST)
Penumbral eclipse ends- 9:49 PM (PhST)
ICYDK:
A lunar eclipse occurs when the moon moves into the Earth's shadow.
A "blood moon" happens when Earth's moon is in a total lunar eclipse. This gives the moon a red or ruddy-brown due to the refraction of sunlight.
Meanwhile, a supermoon is a new or full moon that occurs around the same time as perigee (the point in the Moon's orbit where it is closest to Earth).
Watch the live stream of the events below:
FACEBOOK: facebook.com/PAGASA.DOST.GOV.PH
YOUTUBE: www.youtube.com/channel/UCpyLikj1x70S8UPxVqsPr6g
For updates, follow: