01 Oct

Tourists Should Reconsider Traveling to Southeast Asian Countries Due to Zika Virus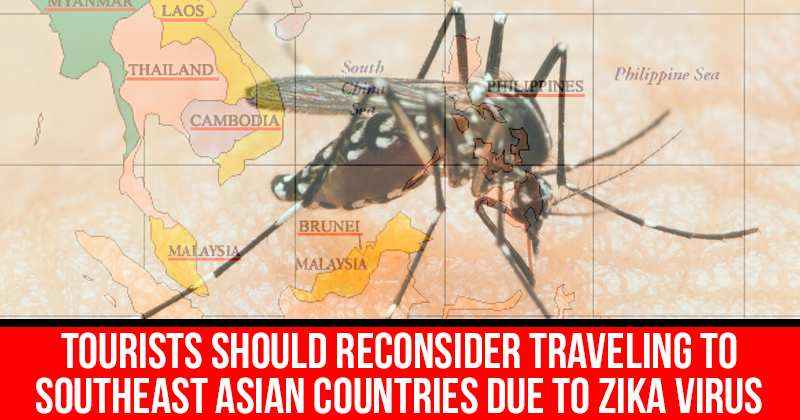 Pregnant women are advised by the United States' Centers for Disease Control and Prevention (CDC) to "consider postponing non-essential travel" to various areas in southeast Asian countries including the Philippines due to the increasing cases of Zika virus.
"Special travel considerations" should be implemented for the "endemic countries in Southeast Asia as travel notices were still not issued respectively from the Philippines, Brunei, Burma, Cambodia, Indonesia, Laos, Malaysia, the Maldives, Thailand, Timor Leste and Vietnam, CDC stated in an advisory published on its website.
CDC stated, "These countries have either reported local Zika virus transmission or are next to countries with known Zika virus transmission. Because of this, CDC recommends pregnant women should consult with their healthcare provider and consider postponing non-essential travel to (these countries)."
The issuance of travel notices to these Southeast Asian countries "would be considered if the number of cases rises to the level of outbreak."
The Zika virus can be passed from a pregnant woman to her fetus. Infection during pregnancy can cause certain birth defects.
Those tourists who want to travel to the specifically the Philippines "should strictly follow steps to prevent mosquito bites and sexual exposure" to avoid being infected, according to the CDC.
A Zika virus testing should be offered to pregnant women and considered for other people who have symptoms of Zika virus infection if they have recently traveled to the Philippines.
CDC stated, "Zika is endemic in the Philippines, and the risk to travelers is unknown but likely lower than in areas where the virus is newly introduced and spreading widely."
According to the Department of Health (DOH), there was already twelve Zika virus infection cases that were documented in the country this year.
Among the 12 patients infected with the virus is a 22-year-old pregnant woman from Cebu who is pregnant for 19 weeks with her first child.
The DOH stated patients affected by Zika range from 9 to 55 years old.
---
News Source: Inquirer