09 May

Trim down your weight with the right food: Green Home CDO delivers fresh, healthy & delish meals right at your doorstep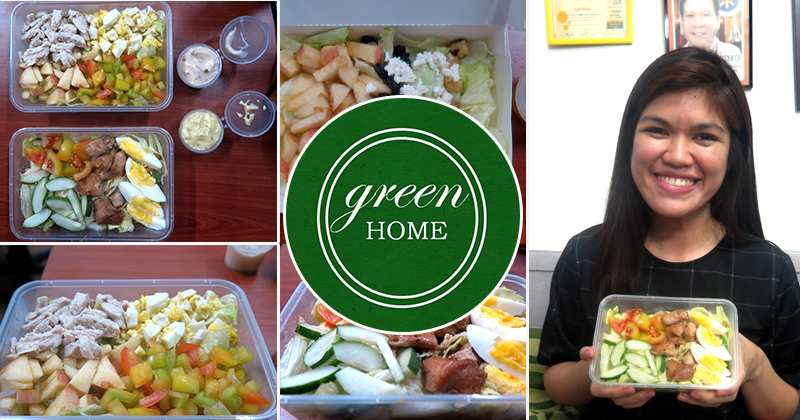 Summer is just about to end but you still want to maintain that summer body look. After all you worked hard to earn such shape, right? Or maybe you never made it to your summer body goals. However, it's never too late to start slimming down.
Looking for an organic yet delicious meal that would keep your energy high while working out? Green Home CDO brings you the most convenient, affordable and healthy organic food meals.
Green Home, your home based green food, provides you with fast, healthy, affordable and convenient way to cut your carb intake that are all natural and raw salad meal. A different kind of diet that can help you lose weight which focuses on low-carb and high-fat diet known as Ketogenic Diet.
What ketogenic diet does is to reduce your carbohydrates intake and replaces it with fat. This is beneficial especially to those having problems with diabetes, cancer, epilepsy, and alzheimer's disease.
HOW IT STARTED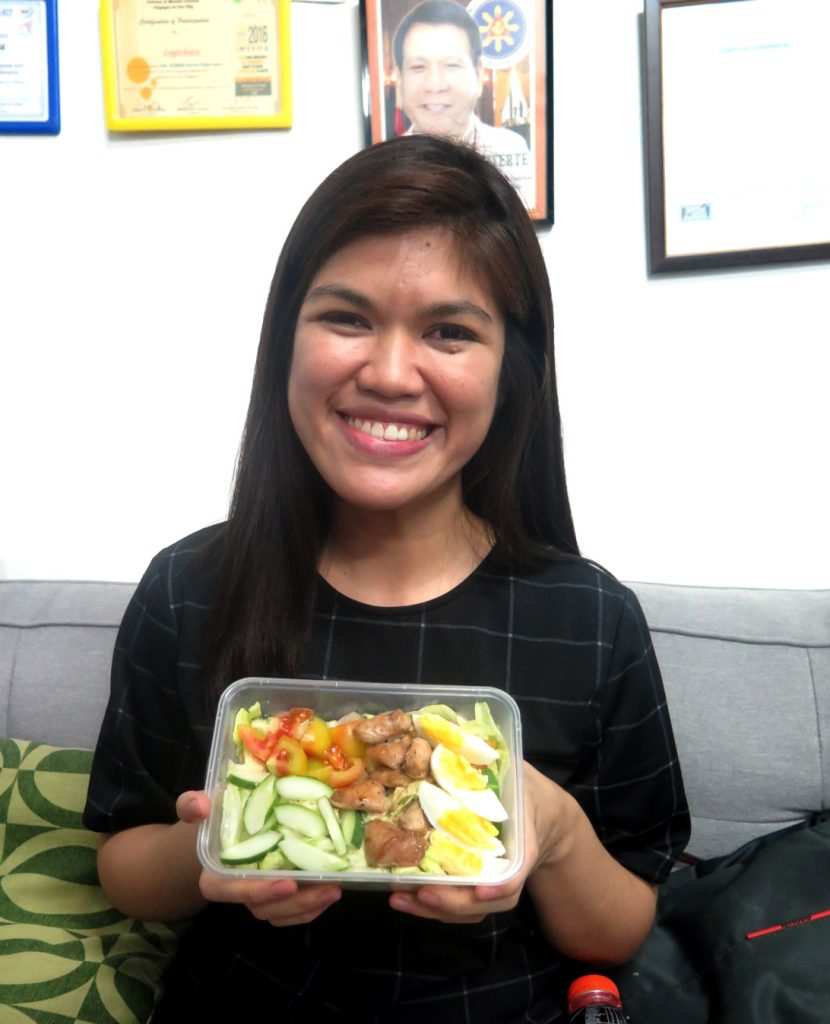 Green Home started when full time mom Charlotte Claire C. Mulat wanted to lose her weight after giving birth to her first child. She started her own diet program by exercising and  depriving herself from eating too much and exchanged her one regular meal into eating salad. Claire relied on her own mix of salads and several months later, her sister and mom saw how she slimmed down. Curious, her mom asked Claire to make her a salad. Later on, her mom payed for every salad and suggested her daughter to put up a business out of it.
Basically, Claire's first customer was her mom but after deciding to put up a business out of her salad mixes, she tried to sell some to her husband's co-workers. They liked the salad meals and eventually became Claire's loyal customer.
WHY GREEN HOME?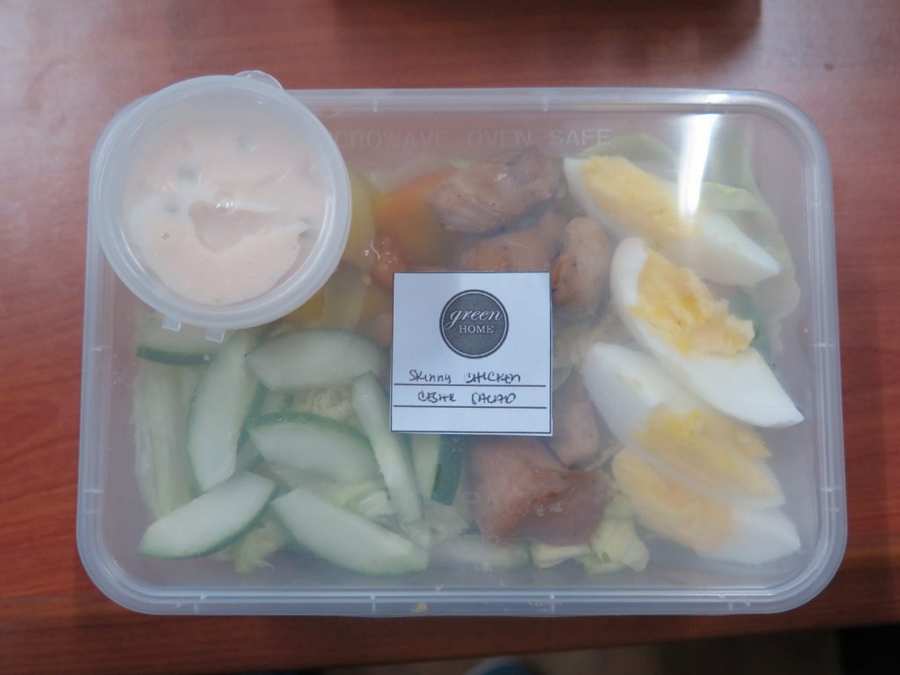 After gathering good comments from her first few customers, last July of 2016 Claire decided to finally open her own organic food business and named it "Green Home CDO" since she didn't want it to be a common name and wanted it to sound eco-friendly. And since it is home-based, she came up with the name Green Home.
ABOUT THE BUSINESS
When Green Home started, it was quite challenging for Claire to juggle her mommy duties and making her salad mixes. Since Green Home caters delivery only, Claire has to make sure that by 10am she is already done with her deliveries so she can be home the moment her child wakes up. Another challenge for Claire is planning about the menu. She makes sure that Green Home offers various salad meals that her customer's would like, considering that it should be both healthy and tasty.
THE MENU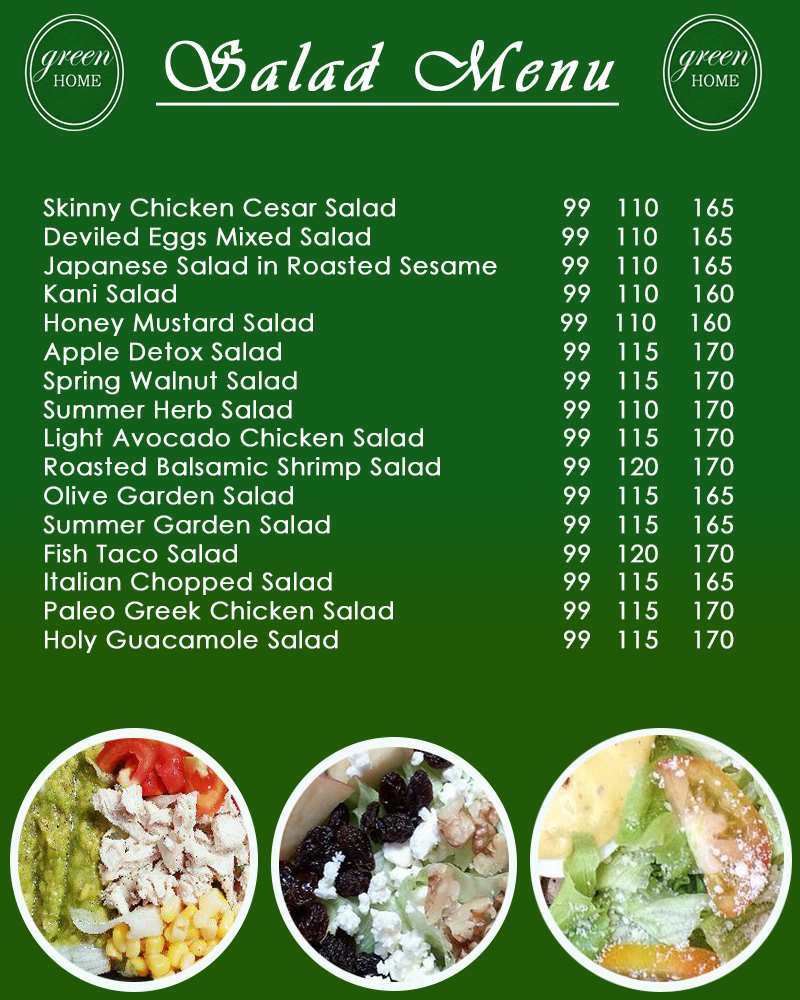 Green Home offers a wide range of salad meals with tasty dressings in affordable prices. You may choose from different sizes: mini, bowl and box of salad which is good for sharing with a friend, partner or with your family. Their dressing ingredients includes honey or stevia herb as sweetener. After having a meal of salad you can pair it with their the Nutty Protein Bombs dessert which is healthy, organic and raw; has no butter, refined sugar, dairy and soy; and lastly, it is chewy, crunchy, sweet and salty at the same time.
They also have the green meal plan, wherein you may request salads that is suitable for your diet. Good thing about Green Home is it gets involved with the diet of its customer. Claire knows her customer's intent on eating a particular salad mix that she made so she can mix the right ingredients for them.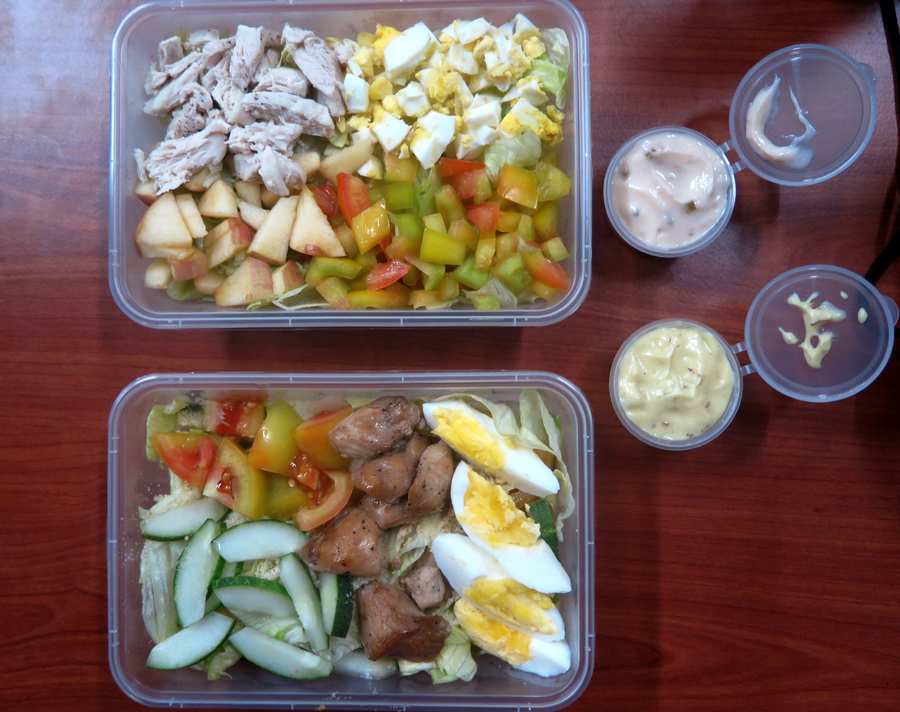 According to Claire,  her best selling salad is the Skinny Chicken Ceasar Salad, a classic meal that has a refreshing combination of ingredients to satisfy you and at the same time giving you the nutrition you need. "It's preparation is more on the protein because it has the eggs and slices of chicken which is marinated with brewed kikoman, honey and garlic and then baked. A lot would enjoy this salad because with or without the dressing it will still satisfy a person, and this is really perfect for everybody."
FEEDBACK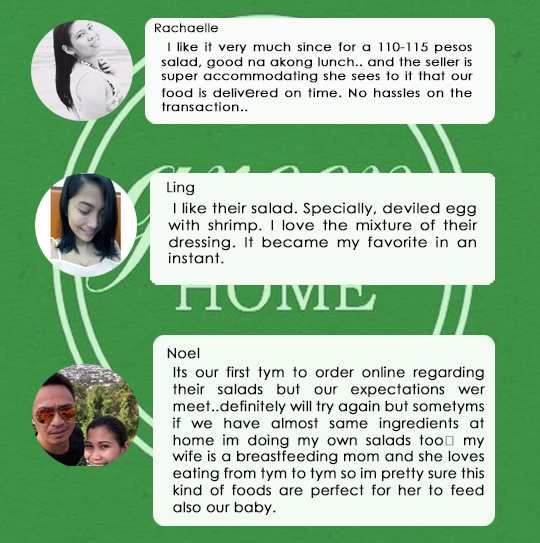 When asked Claire how she managed her business, she said that  "Focus on the progress not on the result", focus on what you are doing right now instead of focusing on your goals. This also applies to everyone who wants to slim down or maintain a body shape. Being too excited over a body goal won't get you anywhere, whereas if you focus on your growth, it would encourage you to do more and continue with the progress. Green Home also encourages its clients especially the parents to involve their children to eat  veggies and fruits while they are still young.  "…it always starts with the parents man gud and personally I apply this to my daughter.", she added.
Be their guest and try out their salads and protein bombs, surely you'll love them. For orders, you can message them thru their Facebook Account:  Greenhome Cdo or send them your order by stating your name, location, order/s (with size) and day of delivery at 0927 – 135 -8556. You can also like their FB page and check out their various salad meals, Green Home.