30 Oct

Typhoon Rolly May Become A Super Typhoon Before Luzon Landfall

Mga higala! According to the United States' Joint Typhoon Warning Center (JTWC) Typhoon Rolly (aka Goni) may reach a super typhoon intensity before its landfall over Luzon!

The JTWC expects Rolly to reach peak strength at 130 knots (240.76 kilometers per hour) maximum sustained winds and gusts reaching 160 knots (more than 296 kilometers per hour) on October 31.

However, this prediction is based on one-minute average measurements of sustained winds, which is different from the tropical cyclone intensity scale used by the Philippine Atmospheric, Geophysical. and Astronomical Services Administration (PAGASA), which makes readings based on 10-minute average measurements.

Despite this, PAGASA said that Rolly can become a very strong typhoon prior to its landfall and has warned the public of a possible Signal No. 3 or 4!

"Given that it is likely for this typhoon to continue intensifying prior to landfall, the highest possible tropical cyclone wind signal that will be raised throughout the passage of this typhoon will be Signal No. 3 or 4."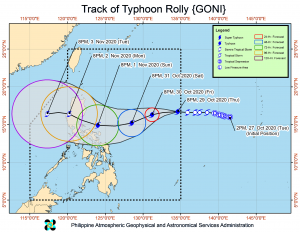 As of 3:00 am today, October 30, the eye of Typhoon Rolly was estimated based on all available data at 1,195 km East of Central Luzon (16.4°N, 133.3°E) with maximum sustained winds of 140 km/h near the center and gustiness up to 170 km/h. It is moving Westward at 20 km/h.
For updates:
Typhoon 'Rolly' may be as strong as 185 kph; may trigger signal No. 3 or 4 — PAGASA