24 Oct

Unlimited Horror Movies @ SM Cinemas For Only P199 To Start Today, October 24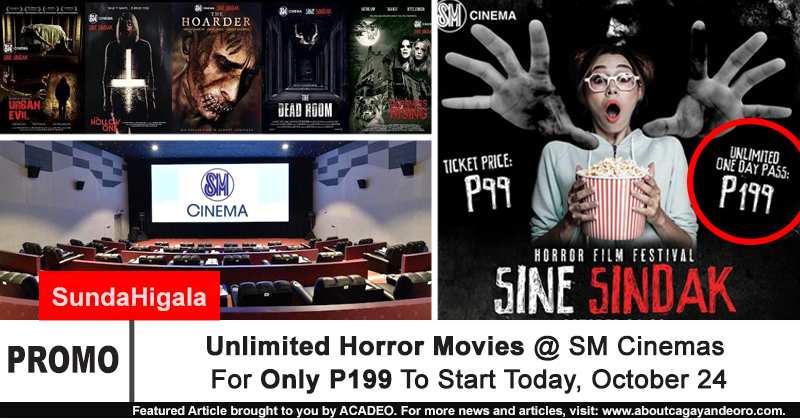 Mga higala! SM Cinemas in Cagayan de Oro will start its UNLIMITED HORROR MOVIES Promo for only 199 PESOS today, October 24!
This offer is part of their Sine Sindak Horror Film Festival, that aims to celebrate the Halloween with unlimited fun and unlimited screams! This spooky promo is only available until October 30!
BTW, you can also watch individual movies for only 99 PESOS. Check them out below:

URBAN EVIL
Considered as the most cutting-edge genre shorts that won BEST KOREAN SHORT FILM award from Bucheon International Fantastic Film Festival and also won BEST DIRECTOR award from Jeonju international film festival would get together. You can see intensive violence, breathtaking fear, and attractive femme-fatale in this film.
THE HOLLOW ONE
While searching for her missing father, an emotionally damaged woman confronts her tragic past and a shadowy figure with sinister intentions.
THE HOARDER
Ella is forced to work with a group of disturbed strangers after getting trapped in an underground storage facility where she finds herself hunted by an unhinged killer.
THE DEAD ROOM
When a terrified family flees a desolate southern New Zealand farmhouse, two cynical scientists and a young psychic are sent to investigate their claims of a haunting. There they encounter a powerful spirit that will protect the house's secrets at all costs.
DARKNESS RISING
The lone survivor of a brutal family massacre must revisit her childhood home on the eve of its destruction and confront her past, as well as a deadly evil.
Source: Proud Kuripot, SM CDO Downtown Premier