09 Jun

Update on Iligan City's Missing Students, Everybody is Puzzled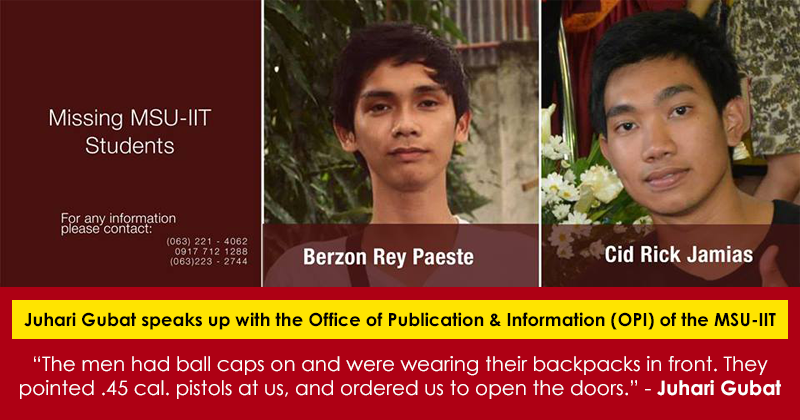 On Wednesday, June 8, finally, one of the released students speaks up with the Office of Publication & Information (OPI) of the MSU-IIT and local press and correspondents at the MSU-IIT Boardroom. Juhari Gubat, a General Education student of the University narrated what happened during the abduction of him and his friends on Saturday night last week.
On Monday morning, he and 3 other companions who are all non-IIT students were released. They are Kevin Limpin, Hannah Yurong, and Eloisa Lacson.
They were given P200.00 fare to go back to Iligan City. The reports that have been circulated over the Internet that they have been rescued is not true, nor the report that they have been taken forcibly inside a vehicle.
Two more captives are yet to be rescued, they are:
Berzon Rey Paeste, 4th year AB History student from Zamboanga del Sur and Cid Rick Jamias, 5th year BS Electronics and Communication student from Tacurong City.
Gubat has met a certain person at 4 o'clock in the afternoon that day who introduced himself as his cousin. His name is "Moamar." That was the first time Gubat saw and known Moamar. Gubat was then asked for his number. Based on his description, Moamar has a curly hair, who stands around 5'3" and in his '30s.
Gubat, Paeste, and Jamias are inside their dormitory that night when Moamar called. They were planning to hangout by then. At the same time, Eloisa Lacson called Paeste if they could hangout at the Caltex Gas Station in Tibanga.
Moamar then picked them up in their dormitory. The vehicle that Moamar used had the plate number KGJ 661. This plate number belong to a Multicab vehicle in Cagayan de Oro City, thus, it is assumed that it has to be fake or stolen.
While at the Gas Station, hanging out, Jamias excused himself that he would like to leave for the Bus Terminal so he could go to Maranding town in Lanao del Norte. Moamar insisted and offered him a ride instead. The whole group went with them.
When they are at Barangay Buru-un near the popular Timoga Spring Pools, six armed men halted the vehicle.
"The men had ball caps on and were wearing their backpacks in front. They pointed .45 cal. pistols at us, and ordered us to open the doors," said Gubat.
He also added, "They were very scary-looking, and they kept insisting that my companions and I were into drugs." He also assessed that some of the armed men were around 18 years old.
The men mounted inside the vehicle and blindfolded them. When they were freed from the blindfolds, Gubat said that he and his companions saw the name of Panga Elementary School. Panga is an area located in Munai, Lanao del Norte, approximately 10 minutes from Bacolod Town.
After then, they were brought in a muddy uphill area where they were separated. The four students that were released are brought into a house that is owned by Moamar. They were then separately interviewed about their parents' jobs. Meanwhile, Paeste and Jamias are brought into a separate place.
Chancellor Dr. Sukarno D. Tanggol uttered his concern for Jamias and Paeste, he said, "we should do more and with concerted effort put an end to criminality. Our problems are gargantuan."
The University's security has been tightened after the incident.
The Institute's Chief Security Officer, Eduardito "Ditto" Maruhom is optimistic that the release of both Jamias and Paeste is imminent.
Maruhom also said that the AFP 2nd Mechanized Brigade forces, the PNP and the NBI are active in their campaign of rescuing the MSU-IIT students Jamias and Paeste.