29 Apr

Utopia – An Openshoot for a Cause (A Project of Sanctuary Beauty Care and Wellness)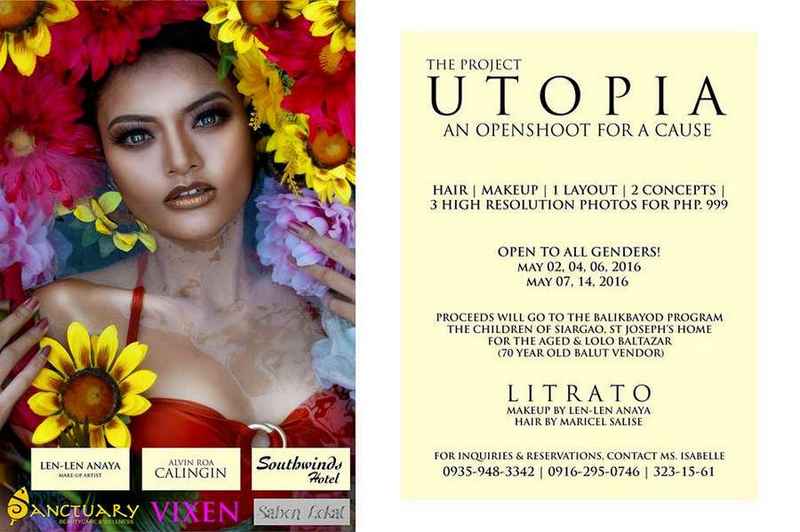 Sanctuary Beauty Care and Wellness, Cagayan de Oro's top center for spa-related services, massages, and beauty care, is proud to present, The Project Utopia, An Openshoot for a Cause. A combined beauty care and photo shoot project on May 2, 4, 6, 7, and 14, 2016 at the Sanctuary Beauty Care and Wellness, 2nd floor, Grand Central Arcade, Pabayo corner Arch. Hayes Streets. This fundraising campaign is open to all genders and its proceeds will benefit selected NGO's and programs for orphans and the elderly who are less fortunate.
Project Utopia will be conducted by the team from LITRATO, in the persons of popular makeup artist, Len-Len Anaya, hair stylist Maricel Salise, and professional photographer Alvin Roa Calingin. Ms. Anaya is Sanctuary's latest addition and is considered one of the top 10 makeup artists from Marche Wedding Philippines and an instructor at the Fashion Institute of the Philippines.
For just P999, the project package contains hair and makeup makeovers, 1 layout, 2 concepts, and 3 high resolution photos. This fundraising project basically aims to make positive contributions to the communities who are in need. It is also meant to actively encourage individuals, especially from the younger generation, to join and take part in activities such as these for a greater cause.
Project Utopia has already earmarked 3 major beneficiaries for the fundraising. First are the orphaned children of the Balikbayod Program in the Siargao region. Since the coming school year will be opening again soon, the funds they will be receiving will go to buying much needed school supplies and materials. Second is the St. Joseph's Golden Home for the Aged, the funds earmarked for them definitely going to giving them basic needs that are essential for daily use such as toiletries and blankets. Lastly, there is the touching story of Lolo Baltazar, a 70 year old Balut Vendor plying his ware at the Pelaez Bridge Rotunda area at night up to the crack of dawn just to provide for his family.
So, whether you're feeling like the next top model or simply want to makeover and show off your photos to friends and family, why not take a break and do something different while doing it for a really great cause. Project Utopia might be your next big break. For inquiries or reservations, you can contact Ms. Isabelle at 0935-948-3342, 0916-295-0746, or 323-1561. You can also personally visit Sanctuary Beauty Care and Wellness at the 2nd floor, Grand Central Arcade, Pabayo corner Arch. Hayes Streets, before May 2.
Project Utopia is also sponsored by Southwinds Hotel, Vixen, and Sabon Lokal. Vixen is Sanctuary's latest addition to its beauty care services. It features gel polish from South Korea that will last for up to 30 days. Vixen also features its eyelash extension and gel nail art services. Sanctuary also continues with its promotional services such as the Regular Facial plus Seaweed Mask, Body Scrub with Whitening, and Swedish Massage.