02 Jul

Travel as much as you can with your online travel buddy, VacationPro Travel!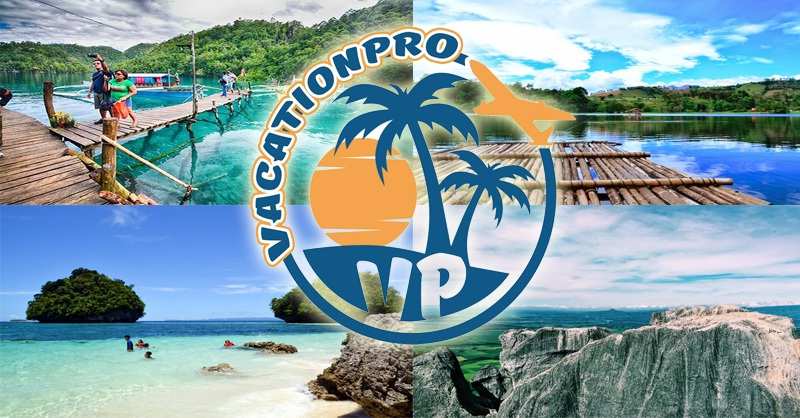 When asked how you would spend your summer vacation, we bet that traveling would be the top answer. Travelling has been a typical pinoy activity that everybody loves. It is a journey where you get involve with the place's jaw dropping and picture-perfect spots. Aside from that you get a little background on the culture of the people in the place. And what makes traveling extra special is the different and good food you get to try from place to place. And tell me why wouldn't you love travelling?
School has started but who said it is already too late to enjoy a splendid summer getaway? In fact, summer or not you can always pack your bags and travel. And if you are too busy to organize your own travel, and need someone to get everything done, we got someone for you. Someone who would make your travel easy, light and memorable. Start your journey with Vacationpro Travel, the newest travel guide in Cagayan de Oro.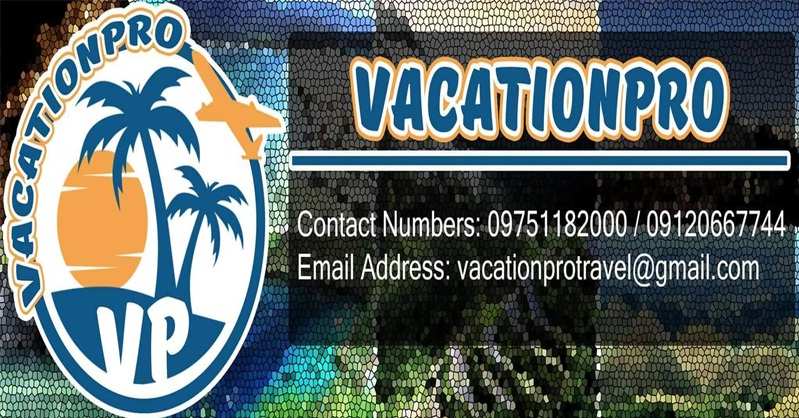 Vacatiopro Travel is your online travel guide that would make travel arrangements for you in an affordable and friendly way. It was originally named as "Wanderlust CDO" and later was changed to a more suitable name, Vacationpro Travel. You can contact them thru 09751182000 or 09120667744 or send them a message thru their FB Page: Vacatiopro Travel or email them at vacationprotravel@gmail.com
Mindanao has a lot of tourist destination for adventurers out there. If you want to relax from a stressful life you can always cool down and enjoy the falls, lakes and springs of Mindanao. If you have the mermaid soul in you, Mindanao has a tons of beach to enjoy at. If you are out for a challenge, you can always go trekking to the mountains of Mindanao.
And this is how Ms. Carmela Mae Q. Saguagan, the owner of Vacationpro Travel, thought when a relative of her went home from overseas and treated them with a travel tour. She realized that Mindanao is a gifted island with beautiful spots to be proud of.
Together with her husband, Carmela thought on putting up an online travel guide that would also serve as a travel buddy to the adventurers of Mindanao which would constantly guide you anywhere you go.
Vacationpro Travel officially started to operate on February 2017. It kicked off with a trek on Mt. Capistrano considering that a lot had booked for the package.
TRAVEL PACKAGES
To date, Vacationpro Travel offers a total of 9 packages for adventurers. Trips on Mt. Capistrano, Lake Apo, Surigao-Britania, Dakak-Dapitan, Sohoton, Dahilayan, Camiguin and Britania-Wakat are the adventures you can enjoy from their lists. And heads-up to their loyal adventurers as Vacationpro Travel offers you a fresh and vibrant tour to the breathtaking Panimahawa Ridge.
How does Vacationpro Travel works? It's easy.
 You pick your desired travel package
 Message them to make arrangements
 Pay the desired amount for reservation
                   Note: Vacationpro Travel is an online travel buddy so you can make your payments online or thru their bank accounts but if you insist they can do meet ups
 Pay the full amount a day before the scheduled trip
 Get ready for the trip
 Enjoy!
CHALLENGES
When asked about the challenging moments in running the business, she shared that there is
one instance she encountered when a customer backed out from the tour only a night before
the travel date. Last minute cancellations are probably the most frustrating thing that can
happen to them as it takes a whole week or two to prepare for a trip. Except for cancellations
made because of natural calamities, Vacationpro Travel is willing to make arrangements.
EDGE
The good thing about VacationPro Travel is that you can enjoy their itinerary for each travel
package since they also offer side trips to other places within or near the planned travel
location. Aside from that, their itinerary is detailed and helpful and will make you feel excited as
you run through the activities that you'll be experiencing throughout the tour.
Carmela also ensures that her customers will really get to enjoy their travel. She is very hands
on with regards to the preparation of the travel and if she is unable to go with the tourists, every
now and then, she will let her assistant attend to them. She even gets involve with her clients
even to details like who succeeded and failed to climb the peak of a certain mountain in a
trekking activity.
Carmela added that she is blessed with the best team, from her tour guides and to the drivers,
she is very thankful to have them as her partners on bringing the best moments to their clients.
Whenever she receives commendations from their clients, she makes sure to credit her team as
well.
And her clients can attest from these. Quoting some of her satisfied clients from their Facebook
Page:
Mi Gu Cah:  "Thank you! Going solo is not bad at all especially if you are well accommodated from bookings to vantransfers.. Looking forward for more adventures!"
Kyle M. Manzano: "The fun was beyond my expectations. Twas FUNtastic! I will surely recommend this to my friends and relatives. Keep up the good work! Godbless."
Jane Bautista : "It was very nice experience. Thanks for making us happy. Very worth it jud kayo ang tanan. Thanks VacationPro"
Ceska Marie Sabandal: " The experience was great! Sulit ang bayad ug friendly ang team. Till next time. "
Thrilled to travel? What are you waiting for? Experience traveling with VacationPro Travel and
make the best memories of your lifetime.
Credits for the photos on the thumbnail:
Sohoton: choosephilippines.com
Lake Apo: lakwatserongparuparo
Britania: rappler.com
Mt. Capistrano: ianadventures.com