26 Feb

Veterinary Clinics in CDO That Are Open to Accommodate Your Pets Needs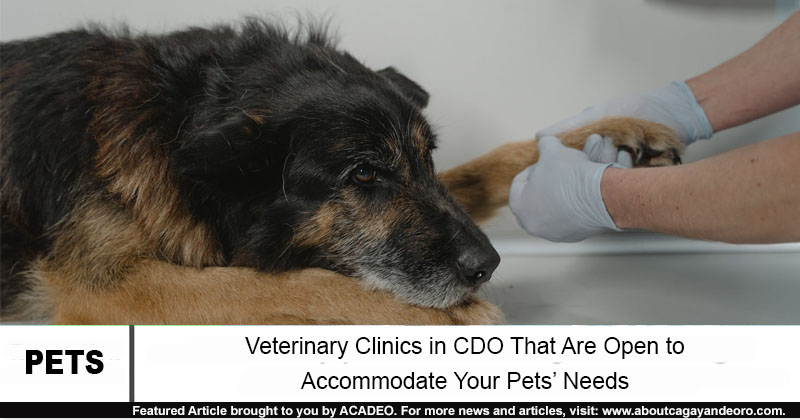 Do you own a pet? What kind of animal is it? How do you take care of it?
As pet owners, it's our responsibility to provide the needs of our pets to keep them physically fit and ensure that they live a fun life. That is why it helps if we know veterinarians we can trust our pets with.
Lucky us – Kagay-anons as we have local vets whom we can call whenever emergencies come.
Uptown Animal Pet Care
Your fur babies might be needing some help from a local vet today, call the Uptown Animal Pet Care today!
Address: Masterson Ave, Cagayan de Oro
Their recent client was a cat which was suffering from vomiting and lost its appetite. It was found out that it was due to weight/muscle loss and low-protein diet. Call them for a comprehensive test of your pets.
CDO Pet Doctor
For quality veterinary services, check out CDO Pet Doctor.
Address: Apitong Street, Crossing Macanhan, Cagayan de Oro City
Their pet services include consultation, vaccination, deworming, laboratory exams, and more. ALSO, they offer pampering services such as grooming.
Pets 2GO Veterinary Clinic Bulua 
Address: Zone 4, Upper Bulua, Cagayan de Oro
Open from 8:00 AM to 5:00 PM, they can be your trusted partner for your furry best friend. For vaccinations and other pet services, call Pets 2GO Veterinary Clinic today!
If you know a pet clinic that you frequently visit to have your pets examined, let us know in the comments below!
Owning a business and want to get a boosted presence online? Be part of our Cagayan de Oro directory. Message us via ACADEO Facebook page or send us an email at aboutcagayandeoro@gmail.com.