03 Feb

Watch Out! Real Estate Warning Signs to Look Out For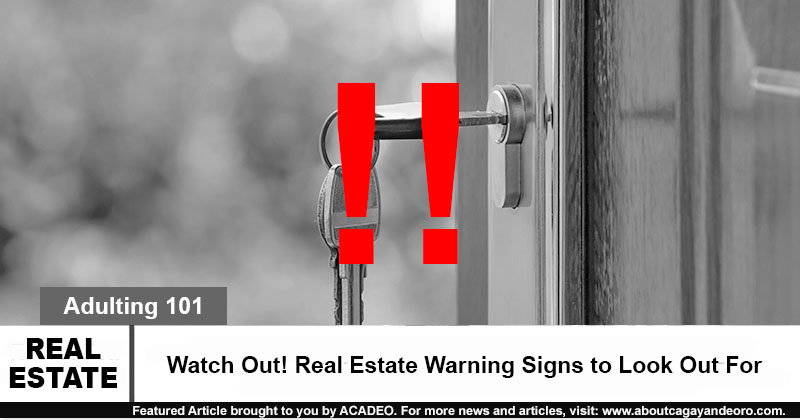 Hi there, Acadeo friends! It's me again, your resident real estate enthusiast, bringing you some much-needed but underappreciated tips and suggestions for soon-to-be homeowners.
Let's say you've taken the jump and started seriously looking for your new dream home. Your housing loan requirements are ready, you have a comfortable savings account to cushion the cost of down payments, and you've even found some homes that are within your price range.
Now comes the tricky part: inspecting and researching your new home. This is important especially if you're buying a property with a structure already built on it. Your real estate agent may not mention certain damages to you, or fail to disclose other information that you as a buyer would want to know before paying for a property.
So here are some important real estate warning signs to look out for!
RESEARCH THE PREVIOUS OWNERS OF THE PROPERTY
If you're buying your home through a developer, like brand new subdivision housing, you don't need to worry about previous owners, since you'll be the first owner of your home. However, if you're buying up a home with a history, you might want to research thoroughly on that history and get to know the owners who are selling it.
This is important because sometimes, the property being sold may have problems regarding ownership that will end up costing you more money to settle than you've originally planned. For example, if the property is being fought over by relatives because it's an inheritance, buying this property could not only cost you a lot of money, it might also be illegal for you to do so.
Another possible situation is if the home has been the scene of a crime. While selling such homes is not illegal, it does bring a negative energy with it that many of us might not be willing to get involved in. after all, no one wants to sleep in a room where someone could have possibly died!
Researching about the current owners of a property can also tell you if the property is at risk of being foreclosed or otherwise claimed by another party. Always look into the history of the home and the homeowners' reason for selling!
WATCH OUT FOR FRESH PAINT OR "FREEBIES"
Fresh paint, as well as recent cosmetic fixes like new lighting fixtures, new doors, or an abundance of decorative fixtures may just be a way of fooling you into ignoring more serious damages to the property.
Newly painted walls are a quick way for homeowners to freshen up their home, and isn't necessarily a bad thing, but if you notice there's a lot of "shiny" new additions (that also come for free!) to the home, but your real estate agent or the homeowner themselves won't tell you about the age of the electrical wiring, you may end up shouldering repair costs once you've bought the place.
Insist on an inspection for water leaks and faulty wiring before considering buying a home! Responsible homeowners will be more than happy to do so, and if a seller refuses, then you've likely dodged a very expensive and possibly life-threatening bullet.
WHO ARE THE PEOPLE IN THEIR NEIGHBORHOOD?
There's a song that goes, "people are strange when you're a stranger." This song, by the band The Doors, has a message that applies to homeownership as well.
When you move into a new home, you're not just living in a structure – you're also participating in your own way with the community and the way of life in the neighborhood. For this reason, if it's possible, look into what kind of neighborhood you're moving into. Is there a lot of traffic? If you have small children, does your home have a fence to keep them out of harm's way? Are there karaoke parties every night, or is the neighborhood very quiet once the sun sets?
Similarly, is it far from what you consider as necessities? If it is, do you have the means to commute back and forth? You don't want to buy a beautiful bungalow in a neighborhood that's highly inconvenient to your needs, even if it's at a very low price tag, because the cost of transport will eventually add up and cost you more in the long run. As well, if you're moving with a family, that cost multiplies per person. That will eat into your budget that you could use for other important expenses!
FINALLY…
Don't let yourself get rushed into buying a home! If a seller is pushing you to buy the place right away, now, immediately, that's all the more reason to slow down and really look into the property. Real estate properties are costly investments, and a small mistake can end up being a great expense for you. Don't let yourself fall into sales tactics and buy at your own pace!
Hope this advice helps you, and happy house hunting!