28 Apr

7 Ways to BEAT THE HEAT: What to Do in Cagayan de Oro this Summer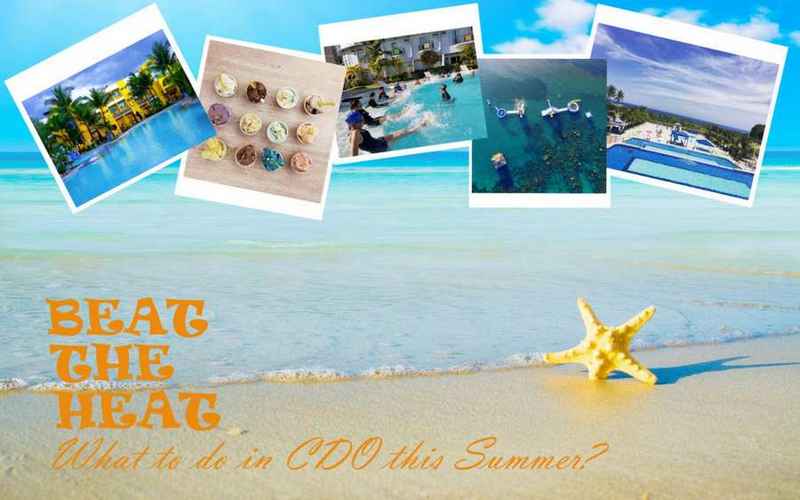 Undeniably, this year's summer is hotter compared last year. Let us blame the worsening climate change and the El Niño phenomenon. But still, we must not let ourselves get so stressed about it. But instead let's find a way to beat the heat!
There are definitely million ways to keep yourself busy while having fun with friends and loved ones, or just by yourself during this summer season. May the activities be indoors or outdoors. Be achieved by groups, tandems or individually. But one thing's for sure, we need them to distract ourselves from the troubling heat. Phew!
You are lucky enough for we at About Cagayan de Oro, will be providing you ways on how to beat the heat this summer season, specifically here in the City of Golden Friendship, CDO. Brace yourselves for these are our suggestions on "What to Do in CDO this Summer"
1. Get Refreshed! Go to the Beach or Resorts

Getting drenched in a cool river, in the shallow part of a wide sea or in a pool (may it be the inflated version) or enjoying an ice cold beverage must be the most common ideas we all think about this summer. Definitely some of the ways we can count on to enjoy the heat, or shall we say, at least.
Thought about swimming? Of course, the summer vacation won't be complete without going to the beach or resorts to have swimming sessions either with friends or with the whole family. Possibly, these swimming venues will be swarmed with groups having their annual reunions or team building activities. But the question is, what are these swimming venues in Cagayan de Oro and where can we locate them?
BlueView Resort Inc.
Can only be found in Barangay Sapong, El Salvador is the BlueView Resort Inc. This classy resort lets you enjoy swimming while surrounded with a great view. For sure is a peaceful venue where you can temporarily forget the stress from work and noise from the city proper.
For ages 3 and above, there is an entrance fee of P250 per head, otherwise it's free. But for senior citizens, P200 per head is a necessary fee, just have to present a Senior Citizen ID. The entrance fee gives you access to the swimming pool area and tent area. If you are going to ask if bringing food is allowed, yes, but there are corkage fees. Alcoholic drinks, deadly weapons, pets, breakable items, cooking and grilling aren't allowed to be brought inside the premise. Don't worry, they have an inside restaurant where you can dine in while being at the resort. For queries, contact them at 09258762491 or 09173022658.
Country Village Hotel CDO
For only P150 per head, you can get to enjoy the stunning pools of Country Village Hotel which is located at Villarin St., Carmen in Cagayan de Oro. To mention their facilities, they have 5 indoor function halls which can accommodate 500pax, 4 outdoor function areas for 200pax and 4 swimming pools for adults, children, infant and jacuzzi. For car owners, they have special parking area. Note that they provide corkage fees. You can reach out to them at (088) 858 3004 for inquiries and bookings.
Blu Sands Beach Resort
May be quite far from the city proper but still being visited among Kagay-anons. Situated at Tubigan, Initao, Misamis Oriental is Blu Sands Beach Resort. With their pools and fronting beach, visitors can make the most out of their summer.
More information about Blu Sands Beach Resort.
Stargate Dream Vacation Resort
Stargate Dream Vacation Resort, "a paradise within the city" as what they call it, is located at Box 1 Upper Macasandig, South Diversion Road here in Cagayan de Oro.
It offers an overlooking view of the Cagayan River and some leisure activities such as horseback riding, hiking and trekking. There are also other facilities such as their resto bar and gym. Contact them through (088) 855-0002, 09328788196 or 09175826946 for more details about reservations.
Timoga Swimming Pool Complex
Consisted of 5 spring pools is Barangay Buruun's Timoga Swimming Pool Complex in Iligan City. It has been a favorite to-go-to place among groups for reunions, special gatherings but most specially, during the summer season.
The spring pools lined up in Timoga Swimming Pool Complex are the El Lauriento (Holiday) Swimming Pool, Timoga Spring Pool, Dela Mar Resort, Mimar's Springway Resort, and Marvilla's Swimming Pool. These 5 resorts are mostly full during holidays, especially during summer. Usually, from the city proper, it will take you 2-3 hours to get here. But know that it's worth the travel.
Del Carmen Beach & Swimming Pool
At Barangay Kauswagan, Lagonglong, Misamis Oriental is Del Carmen Beach & Swimming Pool. Just an hour-ride from the city proper. You can consider this as one of your summer getaway options with a lot of activities being offered.
Kayak, banana boat, bangka, bubble walk, and their pride aqua park are just some of the water activities you can get to enjoy at the venue. When with the whole family or friends, they offer accommodations at reasonable prices. For only P50 entrance fee, you can already make use of their swimming pool. Have your questions entertained via contacting them at 0905 150 0395.

Apple Tree Resort & Hotel
You can spend your summer getaway at Apple Tree Resort & Hotel, one of the premier resort and hotel establishments in the city. Located at Opol, Misamis Oriental, this 7000 sqm property boasts its facilities and services, may they be for business or leisure.
They have indoor and outdoor function spaces for social and corporate events, 39 luxurious guestrooms and suites, indoor and outdoor dining outlets, 2 swimming pools and a private beach, plus you can get to enjoy the view of the Macajalar Bay and Camiguin Island.
2. Get that Adrenaline Pumping!

Aside of the beaches and resorts in and near Cagayan de Oro, you can also try the city's pride, White Water Rafting. Mostly enjoyed during summer, rafting lets you bring out the brave person in you. The view of the nature, the cool river and meeting new people are just some of what you'll be expecting in the whole duration of this unforgettable experience.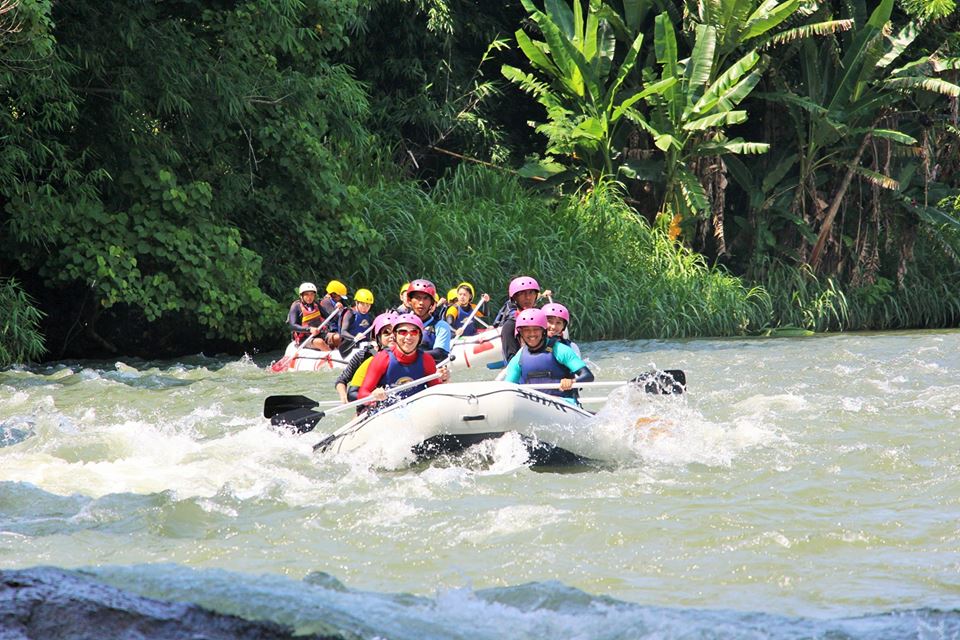 3. Get your Daily Dose of Water and Coolers
And with this summer weather's cruel heat, definitely we need to always keep refreshed and hydrated. It's our way to avoid heat-related illnesses. Water consumption should always be considered the top priority. But, know that there are also other ways to keep ourselves cool even when the weather's angrily hot in the city. May it be indulging gelatos from Missy Bon Bon's Frozen Factory located at the 3rd Floor Ayala Centrio Mall near the cinemas, La Favorita's homemade ice cream with flavors such as avocado, macapuno, cheese, melon and among others that are best against this troubling heat, sipping refreshing milk teas and fruit teas from Chingkeetea – the home of authentic taiwanese tea drinks in the city, or get mango-fied at Mango Mania where you can enjoy different mango desserts.
Sounds refreshing right?
4. Dare for Adventure!
Summer can also mean to discover. Specifically to discover new adventures. Adventures that we can't always get to experience and are hard to forget. Talk about canyoneering, skydiving, trekking, surfing and the likes. But within and near Cagayan de Oro, there are places where you can enjoy, possibly, the greatest adventures of your life.
Dahilayan Adventure Park and Forest Park
The very place where you can enjoy nature and adventure at the same time, Dahilayan Adventure Park and Forest Park is a huge playground for adventure seekers. Located at Dahilayan, Bukidnon, it has become a popular tourist destination among Kagay-anons and other locals. It is a perfect venue for families who would love to have picnics, or for groups who would like to have their team building activity.
They have a wide variety of basic rides and extreme rides. From ziplines, hanging bridge, luge ride, bumpboats, and among other rides and courses where kids and adults can share excitement with each other. In just an hour and 30-minute ride, you can already get there.
Interested of winning a free trip to Dahilayan? Join Cham's Convenience Store raffle promo. Or you can check out packages that fit with your budget.
Ultra Winds Mountain Resort

With its Infinity Pool, Ultra Winds Mountain Resort is gaining popularity. It hails at Baungon, Bukidnon.
Aside of the resort's good food being offered from its dining restaurant's menu, accommodating hotel rooms and amenities, and downhill zipline, it prides its panoramic view at night overlooking the river and most of the city. Definitely the perfect place to spend summer with family and friends.
Mapawa Nature Park
If Dahilayan and Baungon of Bukidnon are too far for you, well, there's a nearer venue where you can still experience adventure but still with nature. I'm referring to Mapawa Nature Park.
The park is located at Malasag, Cugman, Cagayan de Oro where you can have a taste of excitement and extreme adventure with nature. Cable cart, horse-back riding, mentioning camping grounds, are just some of what you can do at the park.
5. Learn Something New!
Maybe it's time to learn a new hobby. Time to keep yourself busy during the summer, and at the same time, to have fun doing a thing you haven't done before? Well, it would be a more meaningful summer when you are able to continue learning. Here are activities you can take part of within the city.
Sports
Are you a sports enthusiast? Or the other way around? It's not too late to learn sports. Aside that it can make you physically and mentally fit, it also makes your summer more enjoyable. Here are available sports classes within the city.
Profluid Swim Aquatic Training
Available among Kagay-anons who want to learn how to swim is Profluid Swim Aquatic Training which is the only swimming school in Mindanao that is affiliated with United States Swimming School Association.
Their services include swimming stroke assessment, short-term training programs such as learning how to swim, water safety and survival, and self-rescue swimming, and long-term programs with the likes of fitness swimming, open-water swimming and competitive swimming. So, if you want not only to become a mere swimmer, but an efficient swimmer, they can help you.
Dancing
Do you know how to dance? No? Well, that's unnecessary as long as you can keep up with the beat. And I am talking about Zumba.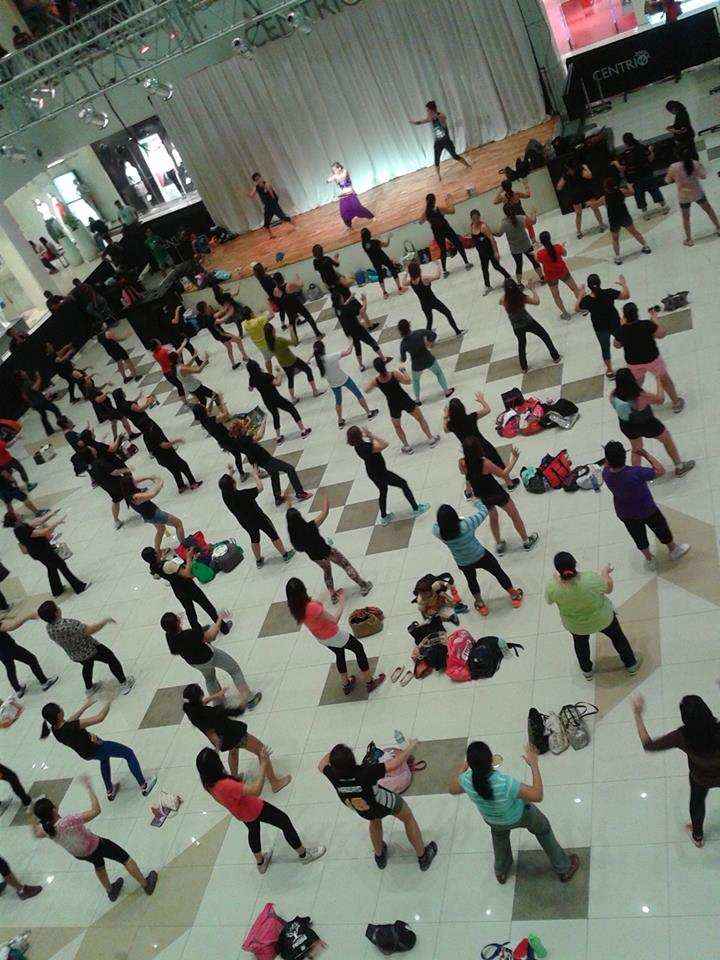 Popular in the past few years is this Zumba which is a dance fitness program. It's actually hitting two birds in one stone. Not that you become physically fit, but after some time, you'll be able to learn dancing. I mean, efficient and impressive dancing skills. Notice the Zumba sessions around the city, like that of Ayala Centrio Mall and Vicente de Lara Park? Usually, zumba sessions at the said venues commence during late afternoon. Here are other locations where Zumba sessions are being held.
Baking
Did you know that baking is fun? You will realize how enjoyable it is when you enroll any baking classes as hosted by either of Monster Kitchen Academy or Sweet House Pastry School. Both are effective schools that have already produced promising bakers in the city and of the Philippines.
6. Feast your Eyes!
Lazy enough to participate such sports sessions or baking classes this summer? The hot weather must have drained all your energy. Unless, you really prefer to just stay at home or somewhere else that gives you comfort.. Well, there are things which you can do at any of these venues. How about watching movies?
When at home, you can just set up your movie players, may it be through your computer or mobile phones. Or you can go to movie houses that lets you watch movies but with hourly rate. Since there are an unlimited choices of movies nowadays where you can just download them or stream via internet, it's definitely one of everyone's past time.
7. Pamper your Body and Feel Relaxed!
Is the summer heat making you feel uncomfortable and stressed out? Maybe your body needs caring. It would be the best time to have a massage therapy session.
This summer, Bambu Springs has a lot to offer. Check their poster below and see what we meant.
Enjoy Summer Promos!
The weather may be so harsh towards us but really, summer gives us the opportunities to enjoy some of the promos only in the said season can be offered.
To mention some of the promos, anyone can enjoy Summer Skin Care from Primavera Cdo, Havaianas Getaway Bag in Centrio, "Summer is more fun at Ystilo Salon" Promo by Ystilo Salon in Limketkai Mall, Summer Sale by Petworld in Limketkai and more.
See! There are definitely a lot of ways on how to enjoy summer in order to forget about the troubling and discomforting hot weather conditions. It just depends on what you prefer, but most especially, it would always be better to spend the summer vacation with the whole family. May it be going to the beach or pool resorts, discovering new adventures, learning new hobbies, movie marathon, or any other ways you can think of. Just a reminder, don't get overexposed under the heat of the sun so as to avoid dehydration and worse, heat stroke. Always apply suncream before heading outside! May you have a super fun and meaningful summer!