08 Apr

What's Trending? Upcoming Home Styles To Look Out For in 2021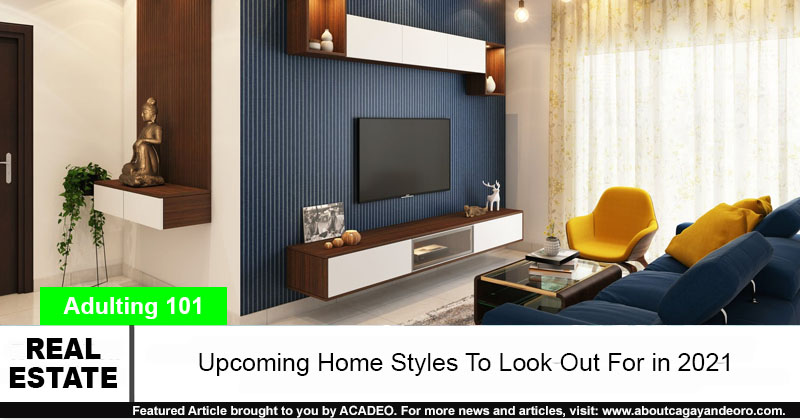 Hi there, Acadeo friends!
With a new year comes new trends, even with real estate. With 2021 in full swing, many of us are getting ready to restart postponed plans from 2020. The pandemic halted many types of activities, but with restrictions slowly easing, things like construction work and shopping are making their overdue comeback.
So let's talk about some of the biggest home style design trends for 2021!
BIDETS
Don't laugh: bidets are currently fashionable. Thanks to the global quarantining and social distancing that resulted from the COVID-19 pandemic, toilet paper has found itself notoriously in demand. Stores couldn't keep them in stock for very long, which led to the rise in the use of bidets.
Long a staple in many Asian residences and establishments, bidets are seeing a rise in popularity all over for both function and fashion. There hasn't been a need for bidets to look trendy, however, so this year is the best time to look for one that has great spray power and matches the tiles in your bathroom, as manufacturers are starting to fancy up their bidets.
WALL OF FRAMES
The pandemic has put the preciousness of life in sharp contrast last year, and with extended social distancing, connecting with our family and loved ones has never felt more immediate.
This has led to a rise in decorations that remind us of them, and wall frames for photos and sentimental memorabilia are now some of the more popular home decor trends. Large photo frames for big photos are great for centerpieces, while scrapbook-style picture frames are ideal for bringing together smaller, older photos along with other paper memorabilia, like sketches.
Dark wood finishes for the frames themselves are on trend for 2021, so pick out a nice hardwood with a smooth finish to add gravitas to your wall of frames.
HOME OFFICES
Okay, this might be a bit of a cheat, but if 2020 taught us anything, it's that home offices have become the norm for many of us. 2020 saw many working professionals carve out a niche for themselves at home out of necessity.
Now that many working professionals have a post-pandemic "work from home" routine established, most are focusing on making their WFH spaces more comfortable. This means you can expect an uptick in computer chairs that look good and feel good, as well as sturdy tables, back comfort pillows, and keyboard designed for smooth typing.
2021 is a good year to invest in a sturdy table and chair, as well as effective lighting for your workspace – we gotta take care of our eyesight!
These are just some of the bigger home style trends for 2021. Not only are they great for making your home reflect your personality, they're also practical for everyday use. Think of these trends next time you go shopping for home decorations!