03 Mar

Sweets in Tins: Where To Buy Tin Can Desserts in CDO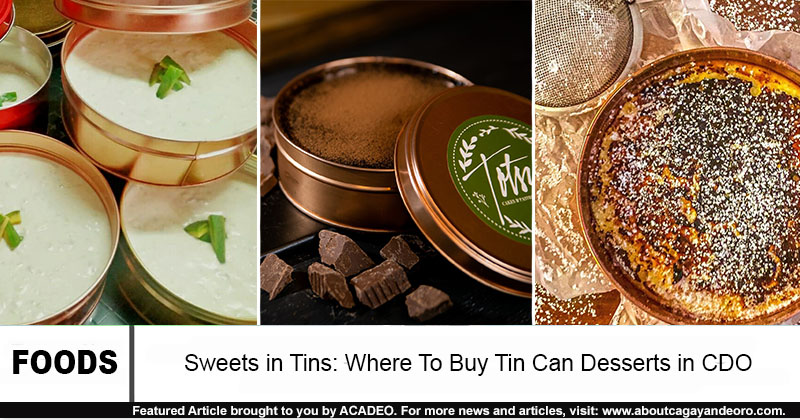 Can you still remember the time desserts in tin cans were first introduced in Cagayan de Oro? Bet you can't as it just happened and businesses offering such products appeared like mushrooms.
Usually in rose gold which gives that classic look, desserts in tin cans became popular among Kagay-anons as gifts for special occasions and also a favorite pasalubong.
Now, where to find these sweet treasures?
Molten Cakes
Drooling for something that easily melts in the mouth? We're talking about Cake Away CDO's molten cakes!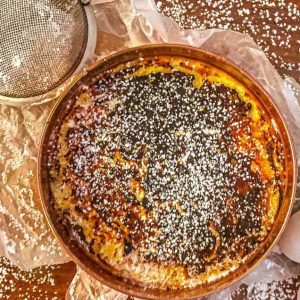 Available in two flavors: dark choco lava cake and burnt molten cheesecake.
Strawberry Cheesecake
Have your sugar cravings solved by indulging to Viben's Homemade Cakes & Pastries strawberry cheesecake.
Blueberry Cheesecake
Address: 30 Dahlia Street, Sepulveda Compound, Ilaya, Cagayan de Oro
A registered home based business that makes sumptuous cakes and other pastries, Aura's Unique Sweet Corner offers you their Blueberry Cheesecake for you to consume today!
Avocado Cheesecake
Address: Bella Dolce at the back of SM Uptown (KUBO Food Park)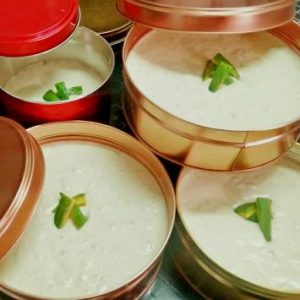 Jirah's Cakes & Pastries Shop specializes in customized cakes but they also offer cheesecakes. You'll definitely love their Avocado cheesecake.
Nearby CDO:
Triple Chocolate Mousse
Address: M.L Quezon Street, Barangay Poblacion, Valencia City, Bukidnon
Get yourself a sweet treat from Totsy's Cakes and Pastries.
Taste the distinct sweetness of chocolate ganache, chocolate, and white chocolate from their Triple Chocolate Mousse.
See other desserts which are no longer in tin cans but still uniquely packaged.
Cake Jars
Address: PN Roa Subdivision, Canitoan, Cagayan de Oro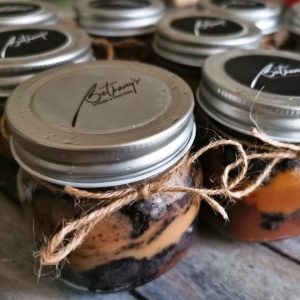 Not really in a tin can but still a great treat from Bethany's.
Experience the taste of heaven with their cake jars. Choose from a variety of flavors such as original sikwate, darker sikwate, seasalt caramel, and peanut butter cup.
Cake Boxes
Address: Ground Floor of Centrio Mall, Claro M. Recto Avenue, Cagayan de Oro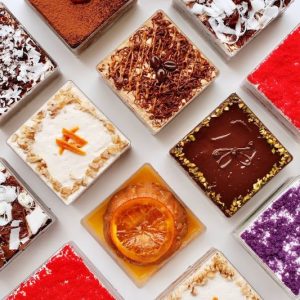 Have a taste of pure goodness with Candy's Cafe's Cake Boxes!
Order today a box or two from their assorted flavors: carrot walnut, toffee coffee, chocolate truffle, orange rum, almond chocolate gateau, ube pandan, red velvet, and double black & white chocolate mousse.
All of these desserts are tempting, so why resist? Give in to your cravings today! Might as well comment down which desserts you have tried or if ever you have found one that we have not included in this list.
Owning a business and want to get a boosted presence online? Be part of our Cagayan de Oro directory. Message us via Facebook or send us an email at aboutcagayandeoro@gmail.com.