20 Apr

The Battle of the Rolls: Where To Order Nummy Cinnamon Rolls in CDO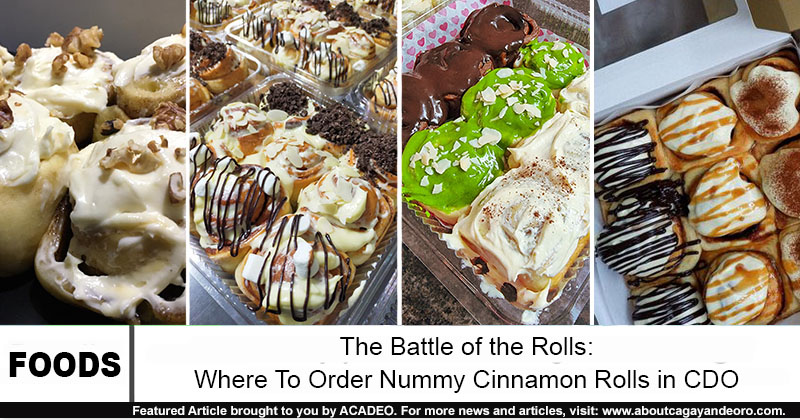 Who doesn't love a fragrant cinnamon roll – a decadent pastry topped with sweet drizzled syrup?
When I was still a kid, my father always brought home a layer of cinnamon rolls from a local bakery shop, still piping hot that the glaze was still liquidy. And now that I can buy a slice myself, what a nostalgic feeling.
So, don't mind your diet just for this day, ok? Cause here are places where you can buy cinnamon rolls in CDO.
YummyTummy
YummyTummy CDO makes their yummies (the term they use referring to their range of snacks) from scratch. This means that their cinnamon rolls are 100% homemade.
Their original 4 pcs cinnamon rolls cost P130. For orders, you can text or call them at 09559281555.
Modern Marble Breads and Cakes
Want something warm to share with your officemates? Get a box of cinnamon twists from Modern Marble Breads and Cakes.
A dozen costs P265 but already comes with FREE delivery.
Boss Baker
Boss Baker CDO offers delectable pastries perfect for family day picnics or Sunday getaways with friends. Try their chocolate cream cheese cinnamon rolls that you'll surely love.
For orders, you can contact them at 09158000019.
Annika's Pasalubong
Visiting an old friend this coming weekend? How about bringing home some premium cinnamon rolls as a pasalubong? Get it from Annika's Pasalubong.
M&C's Sweet Life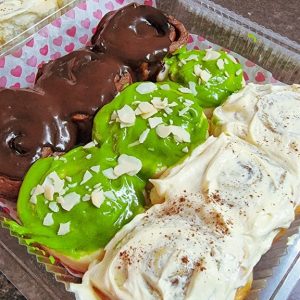 Reserve some superbly soft and freshly baked cinnamon rolls for your merienda from M&C's Sweet Life CDO. You can choose to have the cream cheese or chocolate, or have both flavors by choosing assorted.
Weirdough
Looking for something that perfectly pairs with your favorite cup of coffee? Weirdough got you!
Try their cinnamon rolls drizzled with either chocolate or caramel. Might as well check out their other handmade bread and pastries.
Sugar Tita – Sweets and Treats
Specializes in making cakes and pastries for special events, Sugar Tita – Sweets and Treats also offers cinnamon rolls with cream cheese frosting and chocolate.
For orders, you can text them at 09771522593.
Grazing Tables
Looking for that super soft and chewy pastry? You are in need of Grazing Tables' homemade cinnamon rolls.
Available in plain, ube, and apple, perfect for sharing with your family and friends.
Light, fluffy, and sweet. These cinnamon rolls sure are heaven sent. Now, did you get to taste these pastries from CDO local businesses? Let us know in the comments below.
To learn more about these businesses, go to our CDO Listing. Want to be added? Contact us!