31 Oct

18th City Council Approves Amendments to Whitewater Rafting Ordinance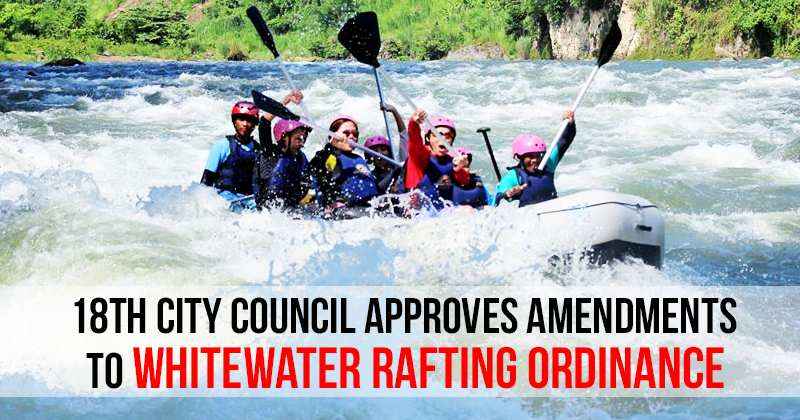 The Whitewater Rafting Ordinance of Cagayan de Oro City or the Ordinance No. 13131-2016, amending Article VIII, Section 1 (B) and Article XI, Section 2 of Ordinance No. 11087-2008 was legislated by the 18th City Council during its regular session.
The ordinance was amended in the provision in Article VIII, Section 1 (B) which affirms that, "all whitewater rafting river guides shall be required to undergo City Disaster Risk Reduction and Management Office (CDRRMO) training on First Aid for Sportsmen, CPR/Basic Life Support, Basic Swimming and Water Safety and Rescue."
The training for the river guides is generally organized by the Philippine Red Cross as Chief Tourism Operations Officer Elmer N. Wabe informed the City Council.
Wabe, however, said that the City Disaster Risk Reduction and Management Office (CDRRMO) is now more equipped to organize the training given their present development, technology, and capability.
The Article XI, Section 2 was also amended, it states, "the Office of the City Mayor shall be primarily responsible for the implementation and enforcement of this Ordinance, and shall formulate its Implementing Rules and Regulations within 30 days from the effectivity hereof."
The City Tourism Office shall closely monitor compliance with the provision of the ordinance and shall regularly notify the city mayor of any improvement or necessary iterations in the future, stated under the ordinance.
Councilor Jay R. Pascual, chairman for on tourism and Councilor Ian Mark Q. Nacaya, chairman for laws and rules reviewed and evaluated the said ordinance.
News Source: Philippine Information Agency