18 Jan

Location, Location, Location: Why Where You Buy A Home Matters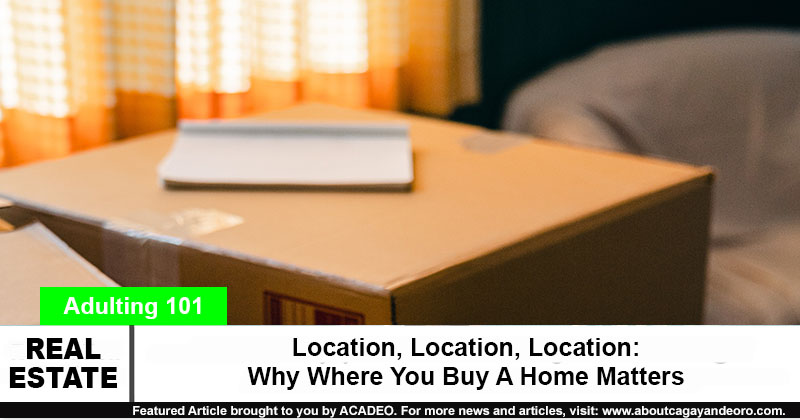 Hi, Acadeo friends! In continuing our series on real estate, here's a little article for people looking to buy their first home or real estate property.
It's the goal for many of us to have a place we can call home, and part of this dream is buying a house and lot where they've built a life. For many Kagay-anons, finding a house and lot for sale within the city that they can afford can be like hitting the jackpot at the lottery.
Before you apply for that housing loan or empty your savings, however, you should ask yourself: is this house and lot the best choice for me?
Let's talk about why location is important when buying a home!
TRAVELING COSTS CAN BE EXPENSIVE
You've found your dream home – it's within your budget, it's in a good neighborhood, and the view is amazing! Just one problem: it's very, very far from where you work.
This might not seem like a problem, at first, but unless you have your own means of transportation, like a motorcycle or a car, your transportation costs will accumulate very quickly.
If your average daily fare is around PhP 80 and you work an average of 20 days, that's PhP 1,600 out of your expenses – and that's if you're the only one depending on your salary. If you're supporting a family of 5 and all of your children are going to school, your expenses for transportation can easily go up to PhP 5,000 just to go about your daily obligations.
When choosing a home, you must account for how far it is from where you work or conduct business, as well as how far it is from important locations, like grocery stores, hospitals, and schools. The further out it is, the higher your traveling expenses will be, and the more you spend on necessary expenses, the less you'll have for savings and other important financial obligations.
YOU MIGHT HAVE TO SELL YOUR PROPERTY LATER
Let's say you've gotten an opportunity to work abroad. Congratulations! You and your family will now be starting a new chapter in your lives in a new environment.
But what about your house?
Filipino culture would dictate that we entrust our home to relatives, but not everyone may find this ideal. Some may need to sell their home to offset the cost of moving abroad, for example. In situations like this, you'll want your property to stay on the real estate market for as short as possible, but if your home is located in a neighborhood that's difficult to access, it may not sell for the same price that you bought it.
Similarly, if you're planning to sell your property due to financial emergencies, the location of your property can dictate how much – or how little – you can sell it for.
If your neighborhood is prone to flooding, for example, don't expect to be able to sell for a high amount, as the flooding is a difficult detriment to proof against. On the other hand, if your home is located close to a highway or main road, you may not be able to sell your property as a residential lot, but you could probably sell it as a commercial property (for gas stations or convenience stores, for example).
YOU HAVE TO CONSIDER YOUR SAFETY
As mentioned previously, a property in an area that gets constantly flooded will be a hard sell, and with good reason. Places in accident-prone areas are always going to sell for less than other similar properties in safer areas because of the risk involved.
For this reason, always conduct a thorough research on the area of your chosen property. If it's selling at a price considerably cheaper compared to similar available lots for sale that are of the same size, there may be some details that your agent hasn't disclosed to you about the property.
Ask if it floods when it rains, or if the location is prone to landslides. If the property is close to a gas station, do some research on the safety precautions of the gas company. If your selected property is close to the highway, measure just how far and whether you can install or construct safety barricades to prevent accidents.
Every little detail counts, especially if you plan to live on the property.
WRAPPING IT UP…
Don't let your emotions get the best of you when buying or investing in real estate! If some properties seem too good to be true, it never hurts to dig deeper and see if there are any details that you're not seeing.
And of course, don't hesitate to ask for help from a licensed realtor or real estate agent – they know what they're doing, and even if you're not buying from them directly, they still have insight on the market that you might not realize you needed to know.
Good luck with house hunting, and until next time!