07 Jul

Wild Onion Pub and Grub: Home of the Famous Duterte Burger & Surprising Delicious Dishes Never Tried Before
The "Wild Onion" Concept
Onion is probably one of the most versatile root crops existing. It is one of the few root crops that can be utilized from 'root to tip' especially when used for cooking. Of course, isn't it a fact that almost everything we eat has onions in it? It also adds good flavoring to foods.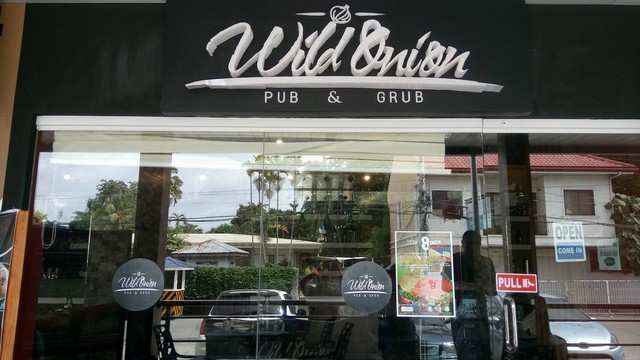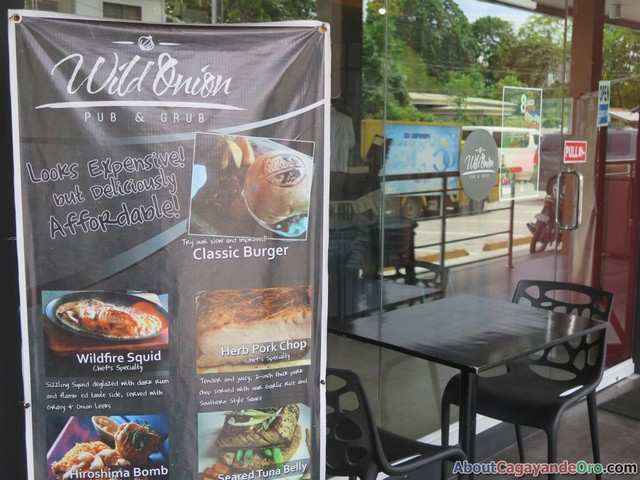 Thus, wild onion denotes being Asian, being simple, and being local, also given the fact that the onions we use in the Philippines is of the Asiatic-local variety, unlike the bigger and yellower western variants.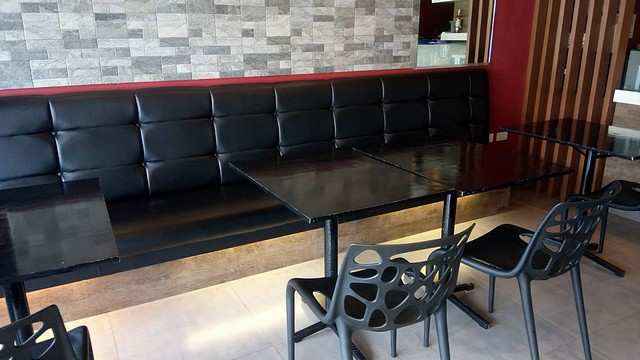 Wild Onion is seen as a bistro-type restaurant similar to those mom-and-pop diners found in the United States (often seen in movies especially if the movie is shot in New York). Everything is informal, laid back, relaxing, cozy, and of course serving very good food.
The Pub and Grub Experience
Having "pub and grub" on its name, Wild Onion reflects the normal London pubs wherein people come to have a "pint" or two while talking to each other, relaxing, and just unwinding at the end of the day before setting for home.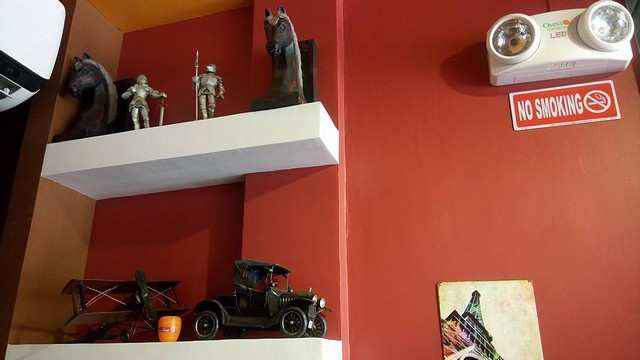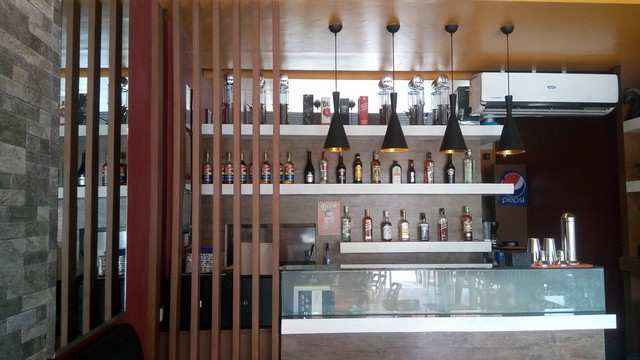 However, as a "grub" place the focus of Wild Onion is more on its good food rather than the alcoholic beverages. Still, the place serves good beer choices, as well as spirit choices like rhum, whiskey, vodka, tequila. They do serve what they term as their "signature drinks."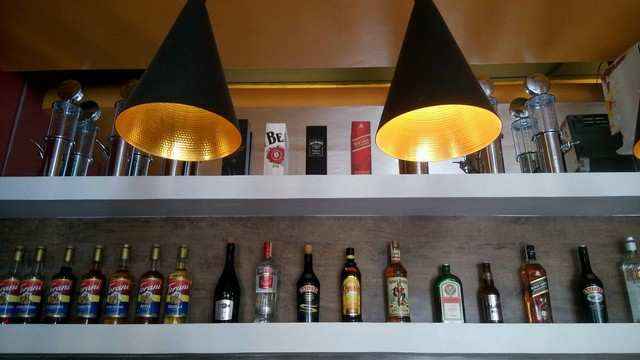 These are one-liter cocktail mixed drinks good for around 4 people. They call these cocktails "Happy Ending" and "Gugmang Giatay." These cocktails are served in one-liter bottle dispensers that are shaped and look like gasoline station dispensers. Of course, the drinks aren't just for the broken hearted; any set of friends, colleagues, or even siblings or cousins can get together for the signature drinks.
The Food
The concept for its food is more or less "fusion" in nature, created or invented by the proprietor/chef and consulted with other chefs if these concoctions are delicious and presentable, and also taking into account the comments and suggestions from their customers.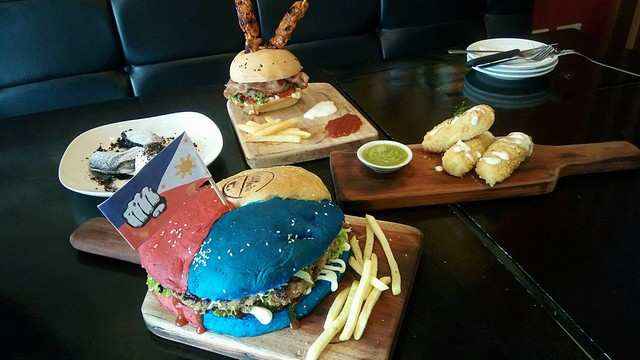 There's a bit of Mexican, American, Italian, and Filipino dishes, just to name a few, and all with their own creations or twists. They even came out with their own line of burgers that can rival the best from the city. All their burgers also sport a burnt brand on the bun with the restaurant's logo. The proprietor had that special branding iron custom made.
According to the proprietor, he doesn't want to serve ordinary food that you can find in other restaurants. In fact, based on its bestsellers and menu lineup, one immediately sees that there is nothing ordinary in the food.
For instance, the Hiroshima Bomb is a sort of Spanish-Mexican croquet filled with a slightly-kicking spicy mozzarella cheese and mashed potato.
One of their top burgers is the Burger Liam (named after the famed actor Liam Neeson and the owner's son, Liam), its thick beef patty mixed with smoked bacon, with two chicken barbecues stuck on top of the burger. It's actually big enough for two people to share.
Another is the Pampanga Sisig that is unique because it's far different from the traditional sisig served in other CDO restaurants. The taste is quite sumptuous and different, with little bits of chicharon in the sisig that adds to the great taste.
One of their top desserts is called the Choco Lava. It's a baked and ice cream delight that needs to be tasted to be really experienced. Even those who don't have a sweet tooth may fall in love with this dessert.
 El Presidente Burger and the Filipino Concept of Sharing
One creative burger dish invented by the proprietor is called the "El Presidente," in honor of the newly elected Philippine president, Rodrigo Duterte. The burger is large enough that it can be shared by 4 people.
This dish, and the signature drinks mentioned beforehand, denotes another concept with Wild Onion, that of the Filipino character of sharing during mealtimes. Somewhat taken from the concept of boodle foods, the El Presidente and signature drinks caters to this sharing habit of Filipinos, because as many say, it's more fun to share around a meal table.
On a more charitable note, for every purchase of the El Presidente burger (which many customers are now coming to call the "Duterte Burger") a portion from its sales goes to Cagayan de Oro's House of Hope in Lumbia. So perhaps since "change is coming," this is one charitable way to contribute to that change.
The Dentist Turned Chef (but Still a Dentist)
Mr. Marco Paolo Culala hails from Pampanga, in Luzon, though the family eventually moved to Bataan where he grew up. Being a Kapampangan family, everybody knew how to cook. Marco graduated from the Centro Escolar University in Manila, taking up Dentistry.
He is now (and still is) a licensed and practicing dentist at the Maria Reyna Hospital. While in Manila he met his wife who is a pure Kagay-anon, practicing pediatric dentistry at the Madonna and Child Hospital. By coincidence, Marco loves to cook while his wife loves to bake.
From Luzon, the family moved to Cagayan de Oro only in 2011. Paolo admits that at first the move was difficult for him due to the language barrier, being far from his family, and having no friends. Today, he enjoys his work, his restaurant, his cooking, and has gained virtually hundreds of friends. To enhance his cooking skills, Marco enrolled at the Culinary Institute of Cagayan de Oro (CIC). It was at CIC where he gained his confidence in cooking and setting up his own business, especially after himself winning competition medals at the Kumbira Food Festival.
How It All Started
According to Marco, he set up his business due to an accidental blessing. While applying to enroll at a foreign culinary school in Canada where he was accepted, things fell through due to immigration problems. Marco decided to channel the money he had saved to go abroad into a small business. Wild Onion opened only last February of this year.
If you enjoy good food while relaxing or just chilling out, why not bring your family or friends over to Wild Onion Pub and Grub, located at the Center Point Arcade at the corner of Domingo Velez Street and Corrales Avenue.