26 Oct

Poultry Farm Worker Shot and Stabbed to Death at Brgy. Balubal, CDO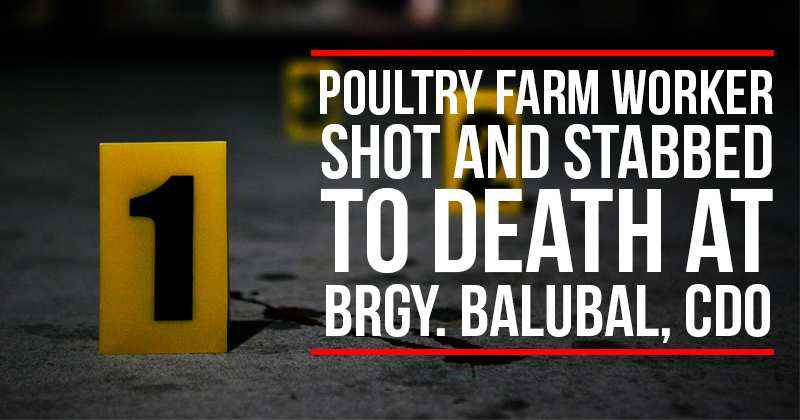 On October 25, Tuesday at around 6:00 in the morning, a poultry farm worker was shot and stabbed to death at Barangay Balubal, Cagayan de Oro City.
The victim was identified by the authorities as Arman Del Puerto, 30 years old and is working at a poultry farm.
The victim suffered from gunshot wounds to the head and back of his body from an unidentified firearm and was stabbed on his left chest, according to Police Station 6 chief, Chief Inspector Ian Borinaga.
Residents in the area found the dead body of Del Puerto and immediately reported to the police.
Upon investigation, the police did not found any pieces of evidence at the crime scene that may lead to the suspect. The motive of the killing is also not determined but the police said believes that the victim may have been killed due to a "personal" grudge.
Del Puerto was said to be in a conflict with an unknown man living in the neighborhood and was receiving threats three weeks before the incident, said Borinaga.
Borinaga stated, "Dili siya involved sa drugs naay information nga nakaengkwentro ni siya ug gibaharan nga balusan. So personal nga angle among gitutokan karon."
He added, "Prior sa incident nag-inom pa ni siya sa iyang papa unya gipapauli na dayon. Ingon pud ang anak nga nilakaw pa iyang papa then wala na makabalik."
Borinaga asked the residents who have witnessed or has any details concerning the killing, to report to the police.
Borinaga stated, "Walay witness nga mitumaw and walay evidence nga atong nakita sa crime scene nga mo link sa suspect," Borinaga said.
Pedicab Driver Stabbed and Killed at Cogon
A pedicab driver identified as Louie Abellanosa, 25 years old, was stabbed to death at Cogon area, Monday night, October 24, Monday.
The police officers of Police Station 2 are now in pursuit of the three suspects who attacked and stabbed the victim.
According to the initial investigations, the victim suffered from deep stabbed wounds on the stomach which caused his death.
The victim was killed after scolding the suspects for being noisy as he was sleeping, the police said.
News Source: Sun.Star