19 Dec

World Olympians Association Recognizes Kagay-anon Athlete Ian Lariba

Pinay Olympian Ian "Yan-yan" Lariba acquires another milestone as she was recently recognized by the World Olympians Association (WOA).

A certificate was awarded to Lariba which acknowledges her contribution to the Olympic society and as an inspiration to her fellow athletes.

The certificate's citation reads, "In recognition of your achievement as an Olympian you are granted use of post-nominal letters OLY, to signify your ongoing role in society as an Olympian, living and promoting the Olympic values."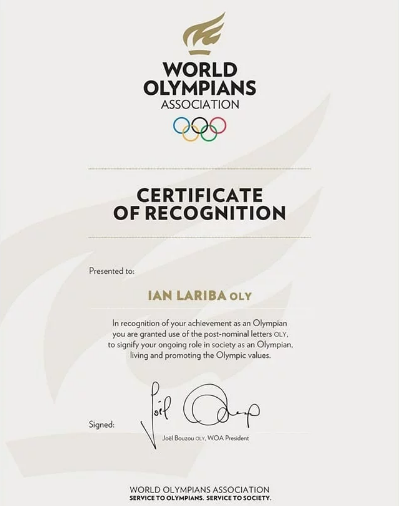 The OLY letters is an exclusive benefit for Olympians. Just like a Ph.D. or other post-nominal designations. If awarded one can use the letters OLY after their name to recognize their years of hard work, dedication, and perseverance in becoming an Olympian.
The following is Lariba's statement after receiving the award: "Wow! This is such an amazing feeling right now. First and foremost, I want to thank You Lord for this privilege and wonderful gift You've blessed me with. I owe this to You, to my family, my mentors, and coaches, my friends, my supporters, and to each and everyone who have believed in me from the very start and all throughout my table tennis career and most especially my Olympic dream and journey. I offer this recognition to you. I just pray that with God's grace, I will always be guided to embody the values of Olympism and continue to be an example of hope and inspiration to others, every day in my life. Definitely, an early Christmas present and I wouldn't be any happier than this! THANK YOU LORD!"
Source: