13 Jun

Worst Shooting Incident in US History: 50 Slain, 53 Injured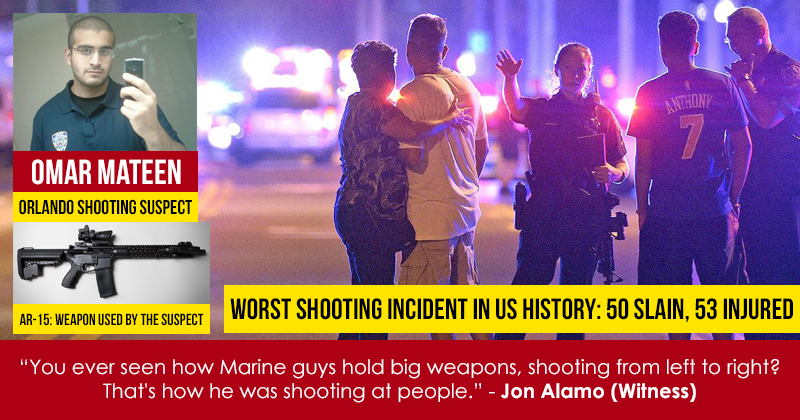 On Sunday, June 12, an Islamist gunman opened fire inside a gay nightclub in Orlando, Florida, leaving 50 dead and other 53 injured party-goers, some are in critical conditions.
A Surgeon from Orlando Regional Medical Center who took care some of the 53 persons who have been injured said that the death toll could rise.
It was in the closing hours of the Pulse club as the revelry almost ended when a 29-year-old American citizen from Fort Pierce, Florida, Omar Mateen showed up carrying an AR-15 assault rifle firing it to the people inside the club.
Considering the small area of the club where more than 300 party-goers are present, missing a shot would be impossible. It was reported that 20, 40, then 50 rounds were fired relentlessly to the people.
Based on a call that has been traced by the authorities, Mateen had pledged allegiance to the Islamic State before the shooting.
Based on the record, thirty-nine of the dead were killed at the club, and 11 people died at hospitals.
Jon Alamo, one of the people present in the shooting said, "You ever seen how Marine guys hold big weapons, shooting from left to right? That's how he was shooting at people." He also added, "My first thought was, oh my God, I'm going to die, I was praying to God that I would live to see another day."
Jackie Smith, who is also present in the club said, "He had an automatic rifle, so nobody stood a chance. I just tried to get out of there."
Just minutes after the shooting started, Pulse posted on its Facebook page: "Everyone get out of Pulse and keep running."
Mateen exchanged gunfire with 14 police officers at the club. A bomb robot has been sent to the location after a battery has been found inside the club. After confirming that the battery is not a bomb and there has been no bomb strapped to the dead bodies, the authorities began to perform much bolder approach to cease the killer.
About 5 am, authorities sent in a SWAT team to rescue the remaining club-goers. They stormed the area using explosives and breaking through a wall with a BearCat, a wheeled armored vehicle.
At 6 am in the morning, the Pulse posted an update on its Facebook: "As soon as we have any information, we will update everyone. Please keep everyone in your prayers as we work through this tragic event. Thank you for your thoughts and love."
Mateen was born in New York, yet his family was from Afghanistan. He was a security guard with a company called G4S. His father said in a statement, "This had nothing to do with religion." Mateen's father remembered that his son recently got angry when he saw two men kissing in Miami and said that might provoke his son to do the assault.
The suspect's ex-wife said that Omar had been violently abusive to her.
This is the deadliest shooting incident in the history of modern U.S. history.
Prior to this, the deadliest mass shooting in the U.S. was in 2007 at Virginia Tech, where a student named Seung-Hui Cho killed 32 people before killing himself.
President Barack Obama called a "solidarity and empowerment" for transgenders, gays, and lesbians. He treats the incident as an "act of terror and act of hate." He then asked the people, if it is the "country we want to be."
Meanwhile, Republican representative Donald Trump decided a radical attempt to ban Muslims from traveling to the United States. Netizens react to this statement by Trump as a provoking approach to an already-heated hatred between Christians and Muslims.