23 Jun

Yoga for Change: Cagayan de Oro and One Yoga Celebrates the International Day of Yoga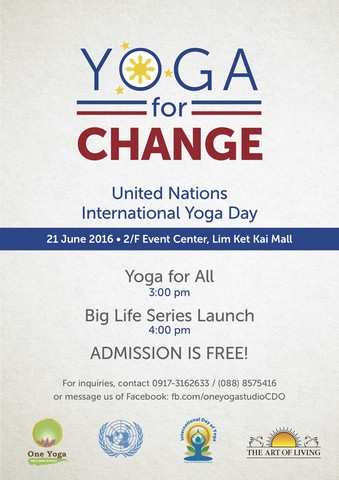 June 21 has been declared by the United Nations as the International Day of Yoga. This U.N. declaration that was passed only last year is supported by 175 countries, of which the Philippines is also a signatory. On its second year, the International Day of Yoga was celebrated in Cagayan de Oro with a Free Yoga-for-all with Meditation at the second floor Activity Center of the Limketkai Mall last June 21, 2016.
With its theme as "Yoga for Change," the free yoga and meditation was sponsored by Cagayan de Oro's very own and only legitimate yoga studio, One Yoga Wellness Studio, in partnership with The Art of Living Foundation, Philippines.
Spearheading this yoga event was no less than Ms. Julie Lim-Ang, director of One Yoga Wellness Studio as well as Cagayan de Oro coordinator for Art of Living Foundation, Philippines.
According to Ms. Julie, while last year's yoga celebration carried the theme, "Yoga for Peace in Mindanao," this year's "Yoga for Change" is supposed to carry the message that anyone who tries out yoga and meditation will find an inner peace and wellness in health that they have never found before in their life. This big "change" can positively have an effect on all aspects of a person's life and disperse everyday fears and anxieties brought about by stress and other negative factors.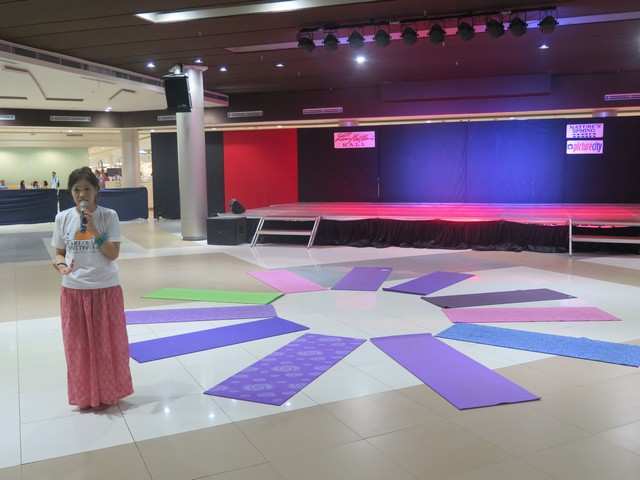 The free-for-all yoga and meditation began with a discussion about the background and benefits of yoga by Ms. Julie herself, including how the International Day of Yoga came about.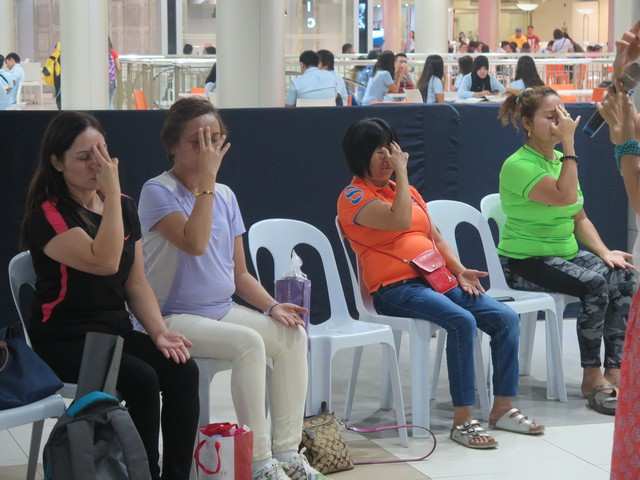 This was followed by some meditative breathing exercises for all participants present.
After this a brief message and discussion was given by Mr. Rolando E. Romblon, an HR and training consultant for private companies.
He is also presently the president of CMOFA or Cagayan de Oro-Misamis Oriental Football Association.
This was followed by the yoga and meditation sessions on the floor using yoga mats for all the participants.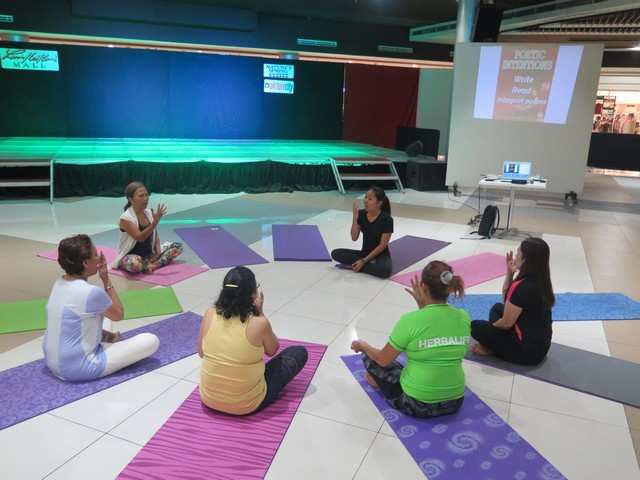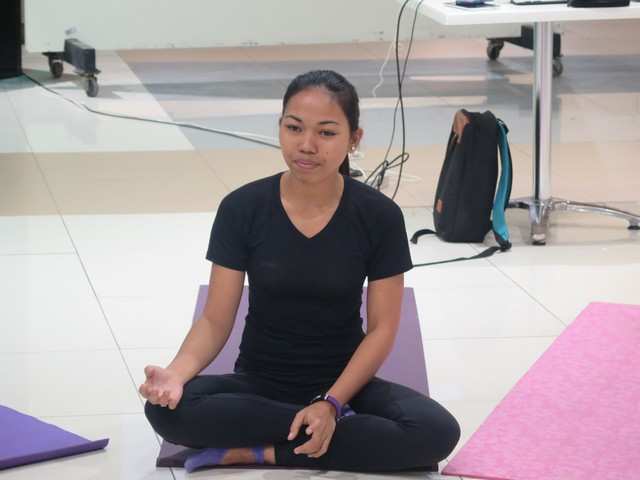 Aside from Ms. Julie, she was assisted in the yoga sessions by other One Yoga instructors, Ms. Asia Aportadera, Ms. Juliet Galvez, and Ms. Glendy Pasa.
How International Day of Yoga Came About
On December 11, 2014, the Indian Prime Minister, Narendra Modi, suggested that a resolution be passed at the United Nations General Assembly to establish the International Day of Yoga.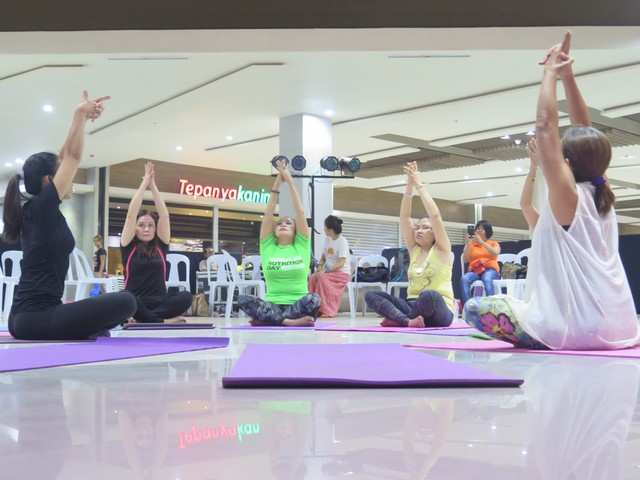 The resolution proved to be so popular that 175 countries were willing to sponsor the declaration, making it unnecessary to vote and to sign the resolution. The Philippines was one of those countries.
How International Day of Yoga was Celebrated in Other Parts of the World
When the first internationally observed Yoga Day was celebrated last year on June 21, yoga enthusiasts all over the world came out to celebrate; in New York City's Times Square hundreds of yogis postured and meditated on their yoga mats.
On the other hand, at the home of Yoga in India, Prime Minister Modi himself led 35,000 in a yoga class in New Delhi, setting a new world record for yoga attendance.
In Paris, hundreds conducted a yoga session under the Eifel Tower.
Meanwhile, at the UN headquarters, Secretary General Ban Ki-moon wore a white track suit and participated in a yoga session at the headquarters.
This Year on International Yoga Day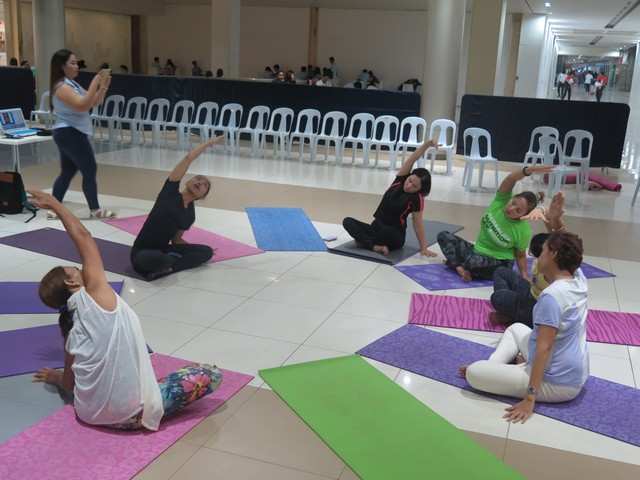 For this year's celebration, the United Nations projected yoga posture images on the side of its New York City headquarters, while the Secretary General announced that this year's observance would link the practice of yoga to its Sustainable Development Goals adopted by UN member states. These goals include specific targets to end poverty and hunger, promoting clean water and sanitation, taking climate action, and the preservation of flora and fauna.
In his speech, Ban Ki-moon explained that "the practice of yoga helps to raise awareness of the role of humanity as the consumers of the planet's resources and as individuals with an obligation and duty to respect others and for countries to live in peace with each other." The bottom line is that yoga can "help the majority of humanity to find relief from stress."
In India, almost every corner of the sub-continent conducted yoga sessions in offices, schools, and parks. In the United States a few schools even conducted meditation and breathing sessions before starting the school day. In the Philippines many yoga studios all over the country conducted special sessions in their studios or took the sessions to more public venues, similar to the one conducted at the Limketkai Mall.
History of Yoga
India is proven to be birthplace of yoga, particularly during the Indus Valley Civilization beginning in 3300 BCE. It originated as a philosophical system before its postures and meditation emerged to serve the wellness needs of the body. Its origins suggested no connection with religion, but around 200 BCE, Buddhism, Hinduism, and Jainism began to adapt systematic yoga methods and practices to enhance their religions.
However, in the 19th century, the yoga that slowly spread into Asia and the western countries, particularly Europe, is more of the original yoga practices without the religious connections.
Even today the yoga that is generally practiced all over the world focuses more on the Asanas or postures as well as breathing exercises and meditation in order to clear the mind and clean out the body's breath. This is essential in order for the mind and body to clearly focus and remove negative feelings associated with stress, anxiety, fear, etc.
Yoga in Cagayan de Oro
Here in Cagayan de Oro, Ms. Julie Lim-Ang opened the city to yoga when it opened the first studio on March 14, 2013. Today, One Yoga Wellness is still located in its original home at the Liong Tek Fraternal Association Building at the corner of Don A. Velez and San Agustin Streets. Ms. Julie is CDO's first certified Philippine Teacher of the Art of Living and one of only four Neuromuscular Integrative Action certified teachers in the whole country.